Since my basic cupcake decorating class I went for in 2010, I promised Alicia (and myself) to bake cupcakes for her *some day*. After two long years, I finally kept my promise to her and here's my very first attempt at baking Christmas cupcakes for kids! 🙂
These are definitely amateur and my icing didn't even turn out the way I wanted it to be because of my mixer but oh well, the cupcakes still looked pretty and the icing was still tasty and refreshing because of the lemon juice.
We made lemon poppy seed cupcakes – I know it hardly sounds festive so I made sure the decorations made up for it.
And after it cooled, Alicia and I decorated the cupcakes: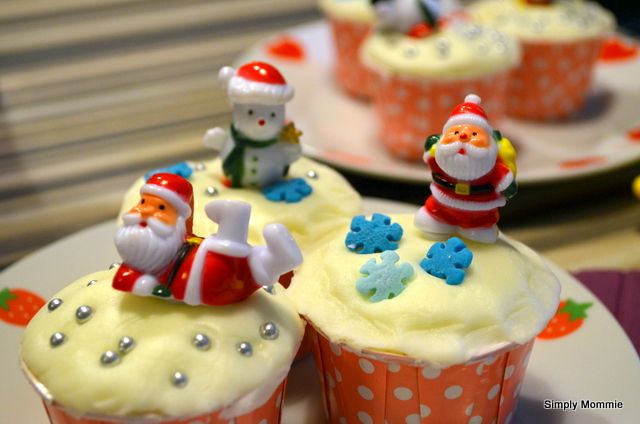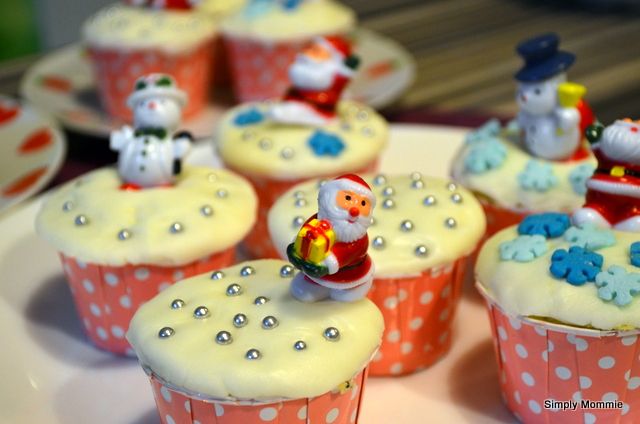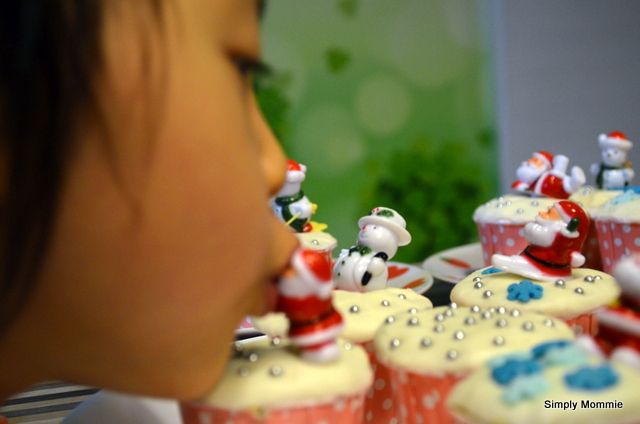 I used a recipe a dear friend gave me which she adapted from joythebaker.com, and it turned out delicious! Even if you don't make any icing or glaze, these cupcakes are yummy on their own.

Christmas cupcakes
Prep time:
Cook time:
Total time:
Dressed up Lemon poppy seed cupcakes for Christmas as a kid-pleasing dessert for Christmas.
Ingredients
130g fine sugar
zest and juice of 1 lemon
250g self-raising flour sifted
¼ tsp baking soda
¼ tsp salt
50ml milk
2 eggs
113g melted unsalted butter
2 tablespoons poppy seeds
Icing
Juice of half a lemon
2 cups icing sugar
2 tablespoons unsalted butter
Instructions
Combine all the dry ingredients.
Prepare all the 'wet' ingredients.
Add the wet ingredients to the dry ingredients and fold together. don't over-stir.
When almost thoroughly mixed, add poppy seeds.
Preheat oven to 200deg C.
Bake for 17-20mins or until browned/golden tops.
While cupcakes are in the oven, prepare the icing.
Combine the icing ingredients together and whisk till well combined. (I couldn't get mine to become fluffy; it ended up too stiff to be piped because of my mixer but it was malleable enough to be rolled out and placed over the cupcake, much like fondant so I just made do.)
After the cupcakes have cooled, use a knife to level the cupcake then decorate your cupcakes.
Have a go at these recipes:
~~~~~~~~~~~~
If you enjoyed this post, please share your thoughts in the comments or share the post with your friends by clicking on the social media buttons below. Do hop over to my Facebook page where I connect with my readers and I would love to have you following me on Pinterest, Twitter and Instagram too 🙂