We're more than halfway through in our countdown to Christmas! Are you still following us on our advent activities? Yesterday was Day #12 of our countdown and we made Christmas gift tags only at night as we had a tiring day out at Changi Airport, our favourite haunt at the moment!
I had to first refresh the idea of what gift tags are because most of the time, when we give presents, we don't have the habit of using gift tags. The last time we made gift tags was last Christmas! Anyway, as I've mentioned in the previous posts, I've tried to come up with simple activities so that more people will feel less intimidated by the activities and hopefully will join us in the fun as we countdown each day with a fun activity so this is yet another easy activity. Here's the link for the Christmas gift tags which we drew our inspiration from.
Christmas Countdown Day #12 – Make Christmas gift tags
First I cut out the tags from a festive red foam sheet and we used glitter glue (gold and silver) to make dots. You can dot the tags with glue and sprinkle glitter instead if you prefer (I prefer the less messy option!). You can also dip Q-tips in other festive colours and  dot away!
We made two of these dotty ones, one with random squiggles with gold and silver glitter glue and three with little Christmas trees. I had previously cut out Christmas tree shapes from her finished Strung up cut straw bits painting piece. The varying tones of green look marvellous in my opinion, which made me decide to cut the art work into Christmas trees for this activity. (If you are like me and like to hoard your kids' masterpieces, recycling their work for another activity is always a great way to minimise the growing stack of artwork and yet not feel the pain of throwing away your kids' creation.)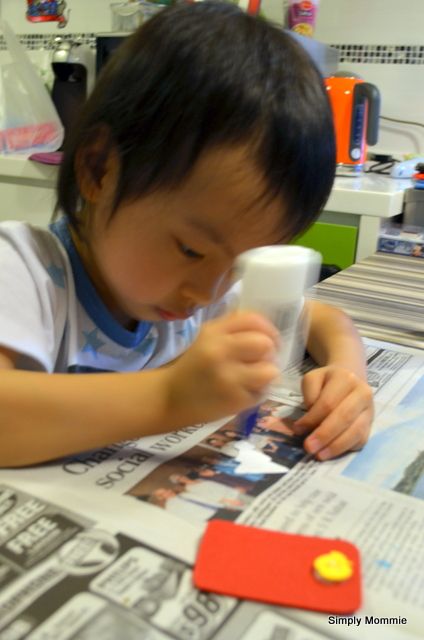 I was planning on adding a gold star sequin on the trees but she decided to go with my idea for only one of the three trees and she chose to use apple buttons to top the other two trees instead. They still look cute, nevertheless. Just add a gold twine or ribbon to the tags and they are all ready for gifting!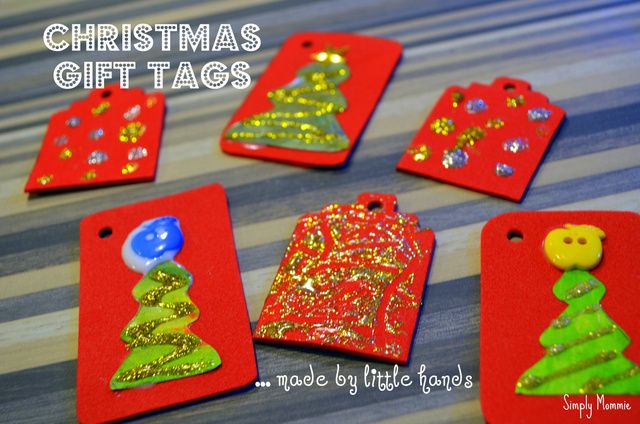 Check out the full list of fun advent activities for kids I've planned!
Linked up with: