Last Wednesday I published the first instalment of my SAHM survival guide where I dealt with what I felt was the greatest challenge for newly minted stay-home moms – cooking and preparing meals. I shared some tips on what I always have on hand, links to my own directory of soups and one-dish meal recipes you can fall back on or look to for inspiration, and also what I've done to make my life easier when my kids are at different stages.
In my second instalment, I tackle the next headache – the endless cleaning and household chores. If you're a stay home mom without a domestic helper or a part-time cleaner, household chores can really take up quite a bit of the day! So here's sharing my take on chores and how I get through the insanity.
SAHM Survival Guide – Cleaning & Chores
Chores are usually ranked last in terms of priority for a sahm with young children.
But seriously, you don't need to live in a dump with heaps of unfolded clothes on the sofa or toys and books strewn all over the floor. And it's important to have at least a decently clean home to be healthy, especially so if you have young children who spend half their time awake probably on the floor or walking around. Yeah, so the bit about the sticky floors? I think it ought to be cleaned up at the very least, IMHO. 🙂
(i) Get the kids to help
Anyway, my hubby cannot stand mess so I've gotta make sure that the home stays neat. It doesn't always have to be done by me though. The kids know that momma will morph into a monster if there's a huge mess on the floor, especially when nothing really constructive happened before that. Sometimes they go into a frenzy and start throwing their soft toys about or just carelessly drop their crayons and markers all over the house (yes, I follow the trail). With sufficient training, they know that they are responsible for clearing the mess they made so make it a point to have the kids chip in for chores, no matter how big or small they are. It helps to also have conveyed clearly where certain things go so they can have absolutely no excuse to say "but I don't know where this goes". Sorry baby, no luck there.
The home is shared by everyone and it is everybody's responsibility to keep it clean and tidy. Age is not an excuse in my home. Note: some screaming might be needed in the beginning. Or whenever they forget. But it pays off.
Or, you might like to try to have a chore chart for kids. Just go to Google and type Chore chart for kids and go to the Images tab. There are, literally, more than a million options.
But as I was saying, let the kids help whenever they can. Give age-appropriate chores like matching socks or pegging them up for a 2-3 year old (doubles up as a fine motor skill activity so they'll never know they are doing chores!) and helping to fold clothes for a 5-year-old. My girl started helping to wash her own waterbottle since last year and she can also help to rinse the soaped dishes clean.
(ii) Invest in (a) good appliance(s)
A good tool works wonders too. My Philips PerfectCare steam iron is my favourite appliance, other than my Airfryer. It helps to cut down ironing time by half!!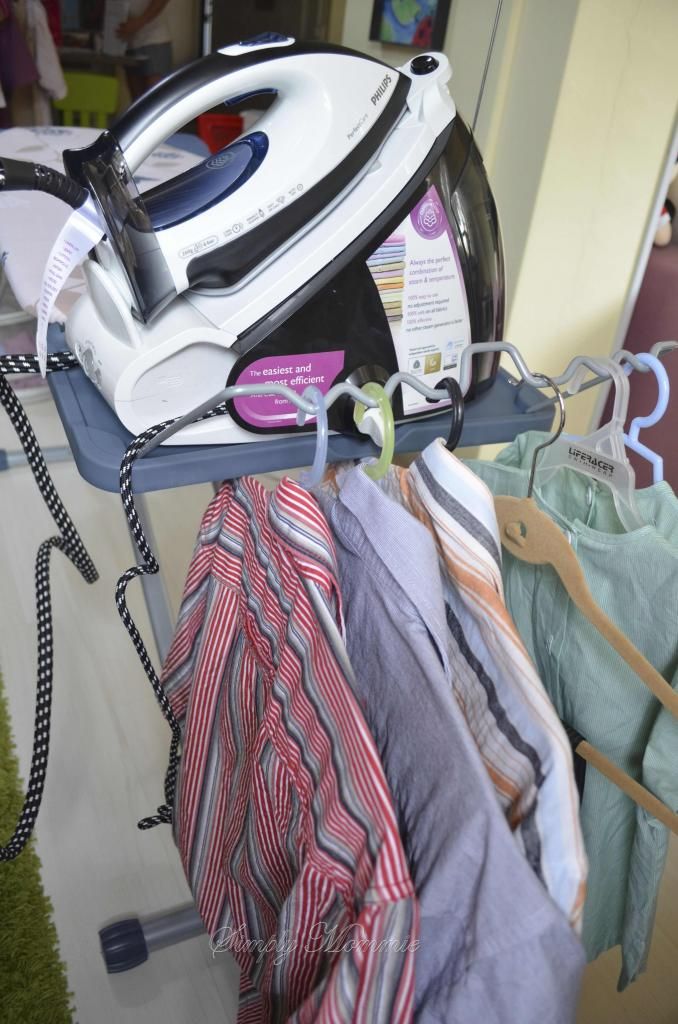 Also, if you hate ironing, try to make it more manageable by maybe trying to catch a show on TV or listening to some of your favourite songs. And you can try ironing while sitting down. This may need some getting used to but this was my life-saver when I was pregnant with #2 – yes, I ironed and cooked all our meals all the way! 🙂
(iii) Work smart
Plan the chores well. Kickstart chores like turning on the washing machine at strategic times. For instance, I like to either turn it on first thing when I wake and go about doing other chores (like keeping/folding the dry clothes) or preparing breakfast etc. By the time I'm done with all that, it's time to hang up the laundry. I also like to turn the washing machine on before my bath as right after that, I prepare my kids for their nap. By the time I'm done nursing and waiting for my little one to fall asleep on his own (and stealing a little bit of time to rest while at it!), I know the clothes will be ready when I come out of the room and I'm recharged to tackle that laundry load after that short rest.
While the kids are busy eating their meals or playing, I try to steal pockets of time to do easy chores like keeping away the folded clothes and washing the cooking pots. Washing dishes in between cooking dishes (e.g. when waiting for the food to cook over the stove/ airfryer/ oven) also cuts down on the eventual bulk of dishes to be washed at the end of the meal, which can be quite daunting.
For more about how I spend my day trying to juggle the chores, I've got a Day in my life post which I wrote almost a couple of years back. Things have changed a bit with the kids growing up in that time, sleeping arrangements and diapering have changed, but you get the idea.
(iv) Cleaning agents
Lemon and white vinegar are my best friends in the kitchen – you can read more about how I use these natural ingredients to clean the house here. They are great for disinfecting and I always love chucking some lemon slices in a cup of water in my microwave/oven (microwave on high for 30 sec) then wiping the oven after that. Makes cleaning a breeze and rids bad odours instantly. I do that for my Airfryer too, just that I use half a lemon and 'airfry' it instead to get the same result.
My other favourite is the white cleaning sponge. It cleans surfaces so well (except for fabric). I used to use toxic and very strong cleaning agents to clean my white kitchen counter top but now all I need is water and the white cleaning sponge and the marks come off easily without the need for chemicals. Great news for my skin too as the harsh cleaning agents are really drying!
I got mine from my neighbourhood when there was a promotion but I understand that this is available at departmental stores like Tangs (Edited: Daiso has these too!)
So I've come to the end of my post and I realise that whether or not you're a stay home mom, you could use some of these tips!
Meanwhile, remember to check out part 1 of my SAHM survival guide if you have missed it. If you think someone you know might like this, please help to Like and Share it on your preferred social media platforms! 🙂 I'll be taking a break next week from this series as I'll be away on a short holiday, but will return with part 3 the following week. Stay tuned!
UPDATE: Read my SAHM survival guide Part 3 where I share how I fit teaching/ playing with my kids in my schedule.
If you love reading tips, I've got a previous series – Tips for Moms, by Moms written by yeah, you guessed it, MOMS.
~~~~~~~~~~~~
If you enjoyed this post, please share your thoughts in the comments or share the post with your friends by clicking on the social media buttons below. Do hop over to my Facebook page where I connect with my readers and I would love to have you following me on Pinterest, Twitter and Instagram too 🙂