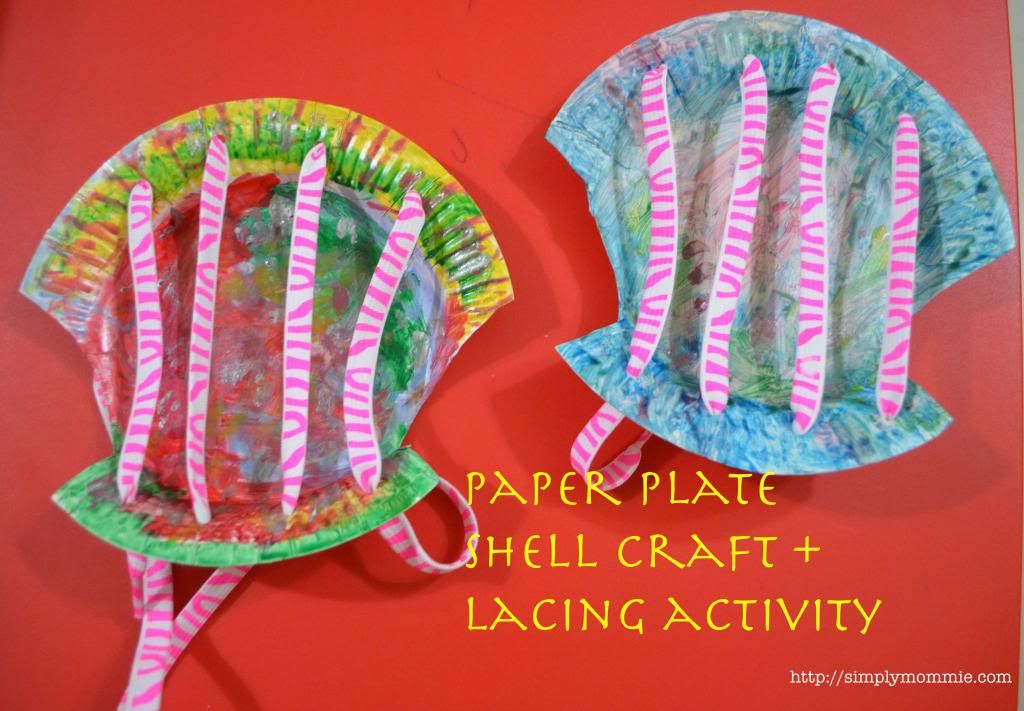 Last week the whole family had a terrible bout of stomach flu and the kids were particularly affected and my little girl was out of sorts and just grumpy that she was feeling so ill. And the best way to cheer her up? Let her paint. Works like a charm, every time.
Since we're on the sea/ocean theme, I decided to do an ocean theme craft – a paper plate shell craft which I had seen on Pinterest. Instead of just leaving it as a craft, I decided that I'd make it into a fine motor skill activity after the coat of paint was dry – but we'll get to that later.
And so they painted – my girl with acrylic paint and my boy with finger paints. Since we were going to use the shells for a lacing activity, I decided not to use poster paint as the texture of the dried paint wouldn't feel as nice and smooth compared to acrylic or finger paint.
After the paint dried, I simply punched a few holes, gave them each a shoelace and they could go string up the shell.
Obviously my tot had problems but my little girl loved the activity and she even went to sleep that night with her laced up shell … and insisted that her brother do the same too 🙂
Fun doesn't need to be elaborate, don't you agree?
~~~~~~~~~~~~
If you like this post, please hop over to my Facebook page where I connect with my readers and I would love to have you following my newly set up social media accounts – Pinterest, Twitter and Instagram. 🙂