Whether you're working or not, or whether you're a mum or a dad, you have to agree that a good massage is always welcome. Before I had children, I used to have the luxury of me-time to go for a well-deserved spa after work. Ever since I had my first child, getting out of the house alone, to do something for myself, has been very much of a challenge. The last time I got my hair cut was last June – you get the idea. So when I was given an OTO Mbraze, I was really exhilarated because I finally can get a backrub without having to mobilise the hubby or leave the house – and hey! I can still read that bedtime story to my kids while using it.
The New European-Designed OTO Mbraze MB-50 is a portable massager which offers multiple uses – based on Traditional Chinese Therapy principles – to relieve muscle aches and pains in all parts of your body.
It comes in three lovely colours – red, lilac and lime green (I got the bright red one!)
But more than just a massager, the OTO Mbraze has eight strong and powerful knobs that massage deep onto the guan yuan (tummy acupressure point) to effectively slim and tone, unlike other brands which use only vibration for slimming purposes. OTO Mbraze also incorporates heat therapy to help improve blood circulation and relieve constipation (sounds good for PMS days… :P).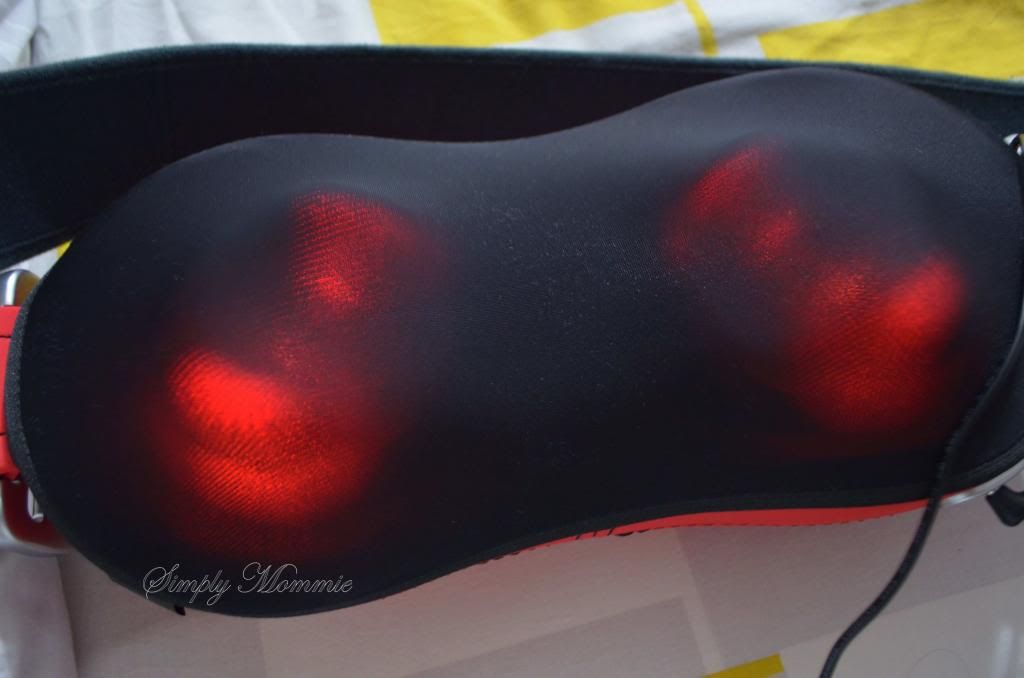 The OTO Mbraze is designed to work on different parts of the body and to help you do this, there are two straps of different lengths provided which you can loop through the metal rings at each end of the massager and use to position it to address the exact problem spots that you have. The shorter strap I figured is for the abdomen area while the longer strap is for you to hold on to when you use the OTO Mbraze to massage the neck/shoulder/back. Here's my model demonstrating what I mean:
Simply slot your hands/arms into the areas designated on the strap to have a good hold and control of the OTO Mbraze as you shift it up and down or across the back.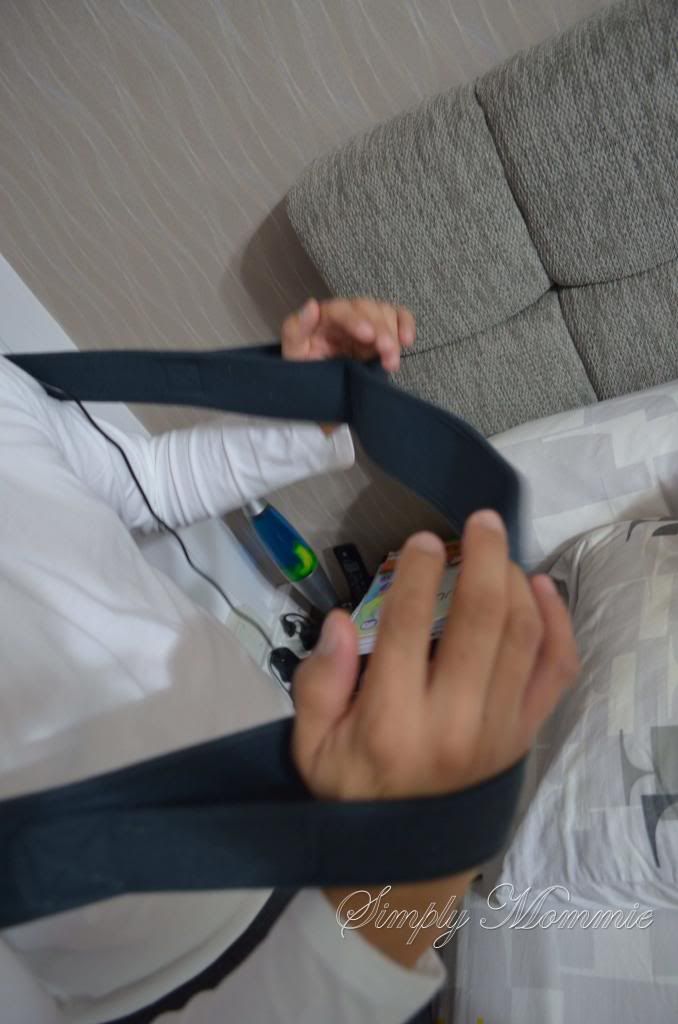 My hubby loves the Mbraze more than I do because he's got chronic neck and back pains and so far this is the only machine that has knobs strong enough to penetrate and hit the right areas for him – it's now become part of his routine to use the Mbraze after his bath and before he sleeps! I'd say the OTO Mbraze is a great massager which takes up very little space for its power – definitely great for tired parents after a long day!
I know you're sitting at the edge of your seat, and dying to ask, 'So does it really work on slimming the tummy?'
Unfortunately, I don't have an answer to that because I couldn't try it out on myself as I don't have much of a tummy and my hubby has only that much time after work and I think you'd understand that having a nice massage would rank higher on his list of priorities than trimming the tummy. I did try it out on my tummy just for the experience, and I could really feel the pressure of the 8 knobs kneading into the abdomen area! If you're using the OTO Mbraze to trim the tummy, you'd really have to put in time and effort to use the machine – use it at least 3 times a day and I was informed that you should see the difference in about a fortnight, of course eating sensibly would contribute to your success.
If you'd really like to know how much the OTO Mbraze can help in slimming the tummy, the OTO Mother's Day contest has started – mummies have collected the OTO Mbraze set and will use the product for 13 days and those shortlisted will be at the two finale shows at Tampines Mall Level 1 event hall on  11 May 2013 (4pm – 6pm) and 12 May 2013 (12pm – 2pm) to showcase their success stories!
Meanwhile, you can always participate in my giveaway to win yourself a $100 OTO cash voucher. As usual, fill in the Rafflecopter widget below!
Disclosure: I was given the product for review purposes. All opinions are 100% mine.
~~~~~~~~~~~~
If you like this post, please hop over to my Facebook page where I connect with my readers and I would love to have you following my newly set up social media accounts – Pinterest, Twitter and