Can you remember what you wanted to pack in your hospital bag before the BIG day? I remember packing mine extremely early in anticipation for #1 while I took my own sweet time to pack when I was expecting #2. Well, a fortnight ago, Moore from Katie sent me a pic of what she and her husband wanted in the hospital bag and it was so cute that I was inspired to make my own, so here it is!:
His Must-haves:
1. toothbrush (and toothpaste): I had to pack in the toothpaste for him or he'd not have brought it. He said he didn't need it. Yah right.
2. jacket: Well, he was going to stay over with me and I told him to bring along some comfortable slacks too but no, only a jacket is needed, the minimalist said, and then promptly went home to get changed.
3. video cam: we thought that we'd be able to videotape the birth but after three days and two nights of waiting, a failed induction and an emergency c-section later, we realised that the video cam wasn't very necessary.
4. Camera: And of course the techie had to bring along the camera as well! ok, this was a lot more useful!
MY Must-haves:
1. IC and hospitalisation docs: these were the first things that got packed in. Simple and straightforward enough.
2. Breast pads: I thought I'd need them once I gave birth. Sigh. Didn't quite happen while I was at the hospital. But I brought them again when I had #2 coz I was very sure I'd need them as I nursed through pregnancy – and this time round, at least I was right!
3. Nursing bra: The thing about giving birth is you have so many expectations of what happens after you pop. This is another one of those things I thought I'd need, but it turned out that nah, I went braless all the time I was at the hospital coz they needed to check on the boobs etc.
4. Disposable undies: Yah, the hospital provides these but fortunately I brought my own coz those they provided were too huge. 😛
5. Toiletries bag: I was very sure I'd need to wash my face and brush my teeth and you know, just feel like a human being again. And no, I didn't wear makeup for my delivery – or after, just thought you might wanna know. I wasn't a makeup person at all when I had my two darlings and getting through a difficult labour the first time round meant that looking good was really the very very last thing on my mind when I think about having a baby!
6. Maternity pads: I was told to buy the loop type by some well-meaning people – but who in the world knows how to tie those things except the nurses? Well, in the end, being the first time mom back then, I bought the loop ones but eventually gave them away and stuck with the normal adhesive ones (no pun intended) 🙂
7. Receiving suit and swaddle: This was the highlight of the hospital bag! I packed and re-packed this many times over – just looking at the receiving suit brought sooo much anticipation!
8. Diapers: Wasn't sure if the diapers provided by the hospital would fit, so I brought my own stash – but duh. I have no idea what made me think that what I brought would fit.
Well, so as you can see, the number of items in my list is double of my hubby's but I think I was already quite a minimalist – no extra clothes or make-up, and I even wore flip flops to the hospital so that I need not bring an extra item. Hehe…
What did you pack in your hospital bag?
Linking up with: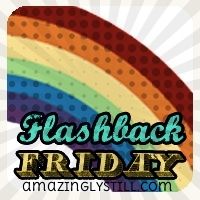 ~~~~~~~~~~~~
If you like this post, please hop over to my Facebook page where I connect with my readers and I would love to have you following my newly set up social media accounts – Pinterest, Twitter and Instagram. 🙂