The Beanstro, a new American style casual dining restaurant by The Coffee Bean, recently opened its second restaurant in Singapore. I was recently invited to do a food tasting for the Beanstro restaurant, conveniently located at Ngee Ann city.
The atmosphere is nice and cosy, the staff are attentive and we love that it's very child-friendly as it comes fully equipped with baby chairs, and the cutlery and crockery for kids. It is also halal-certified so Muslim friends can enjoy the American-style cuisine as well.
Now for the food! For starters, we ordered a soup each. I always make it a point to order French onion soup at restaurants and Beanstro happens to serve it:
The soup was ok, but a little too salty for my liking and the cheese toast was a tad soggy.
My hubby had soup of the day (cream of mushroom):
We all preferred the cream of mushroom soup and the kids were helping daddy polish the plate clean.
For salad, we had Tuna Nicoise:
I didn't care much for the tuna, but the rest of the salad was quite good. I liked the tangy dressing which was very appetising.
We ordered pan-seared Chilean cod for the kids. We informed the staff that this was meant for the kids and they remembered to serve this first so the ravenous ones could be pacified. 🙂
Turns out that the cod dish was absolutely delicious! The cod was smooth and creamy and not overcooked and the vegetables were all surprisingly tender! Even little boy who still only has 6 teeth could happily eat his vegetables.
The kids lapped up everything, including the seafood broth and the mashed potato was sooo good, the kids fought over it. 🙂
Hubby and I are beef lovers so we both had steak. I had the rib eye steak:
I loved the Australian grass fed rib eye steak – it was done the way I asked and it was flavourful and tender.
My hubby had the Australian grass fed sirloin steak:
We both agreed that the sirloin steak paled in comparison to the ribeye steak – it was a lot less tender and succulent, so if you're going for beef, do get the ribeye instead.
We all have a separate compartment for desserts, right? 🙂 After all that food, we still found space enough to order a dessert each. Hubby had the tiramisu:
The tiramisu was very good! We haven't had such a generous portion of yummilicious tiramisu in a long while!
I have a soft spot for apple crumble so I'd usually order this whenever I get a chance. I've eaten really sour apple chunks in apple crumble before but Beanstro's was just nice – not sour but not overly sweet either. I didn't care much for the cream by the side and I had to avoid some almond nuts (I have a tree nut allergy), but I highly recommend this dessert!
As usual, I have to have my tea latte! You can have a choice of type of tea – English Breakfast, Tropical Passion, Vanilla Ceylon or Moroccan Mint) and it comes with chocolate powder. Moroccan Mint with tea and chocolate powder is the ultimate combination – I most definitely recommend this!
The kids were given marshmallows and baby-cino (frothed milk) to end their meal:
Checking out his baby-cino: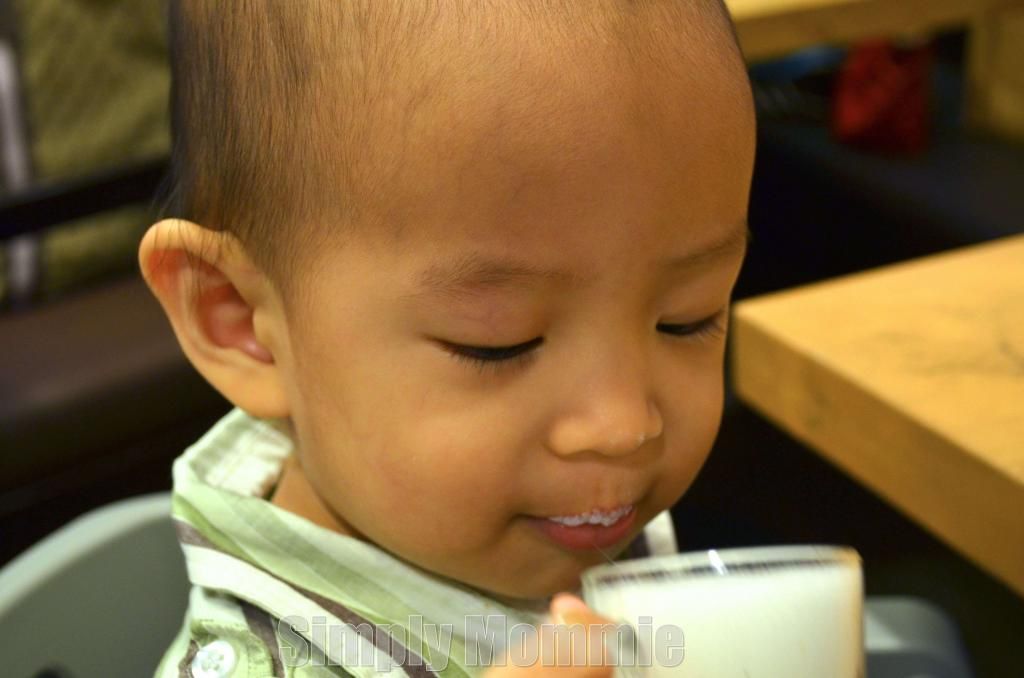 Would we go to Beanstro again? Overall, the food is generally good so we would go and try out some of the dishes we didn't manage to find enough room in our tummy and we would definitely order the ones we really enjoyed again!
More about Beanstro:
With the success of the first Beanstro outlet at Marina Bay Sands, a full-fledge table service concept restaurant conceptualized here in Singapore, Beanstro is on the path to local and global expansion with Singapore taking the lead with the opening of its second outlet at Takashimaya.  The company has plans to open 2 more restaurants in Singapore, which brings to a total of 4  under the Beanstro brand in Singapore.
Beanstro Takashimaya 
  391 Orchard Road #B1-37 Ngee Ann City Singapore 238872 Operating hours: Monday to Sunday 8am to 11pm
Disclosure: Our meal was sponsored by Beanstro Coffee Bean. No monetary compensation was given. All opinions are mine.
If you're searching for a place to dine, you may be interested in these other food reviews:
And remember to Like & Share the review with your friends and family! 🙂