Dear Alex,
I'm a week late in getting your monthly 'progress report' out! Nevertheless, as usual, I have plenty to write about!
#1 Your coordination has improved by leaps and bounds. You can run and stop to pick up something then run off again. And climbing up small steps has become easy-peasy.
#2 This Chinese New Year, you are up and about, compared to last year when you were just a babe.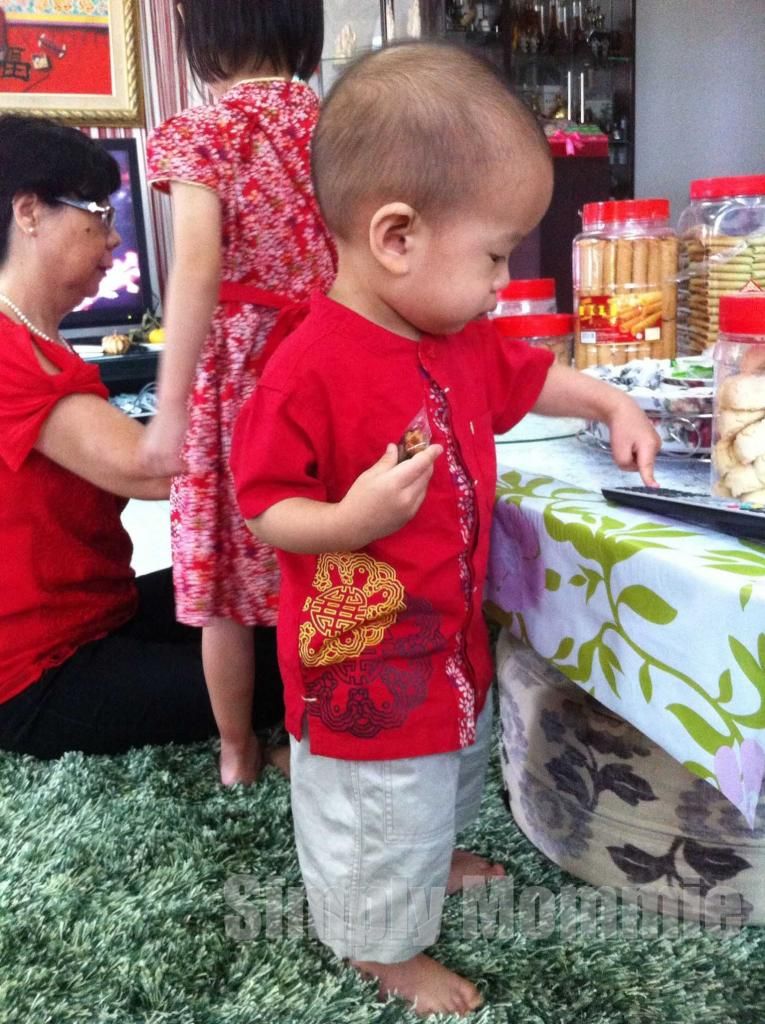 #3 You throw bad tantrums when not allowed to self-feed. You see, if you really meant to feed yourself properly, we'd have let you but most of the time, you end up using your fingers to pick food out. If only you behaved as you did in this photo all the time, mummy will gladly let you self-feed.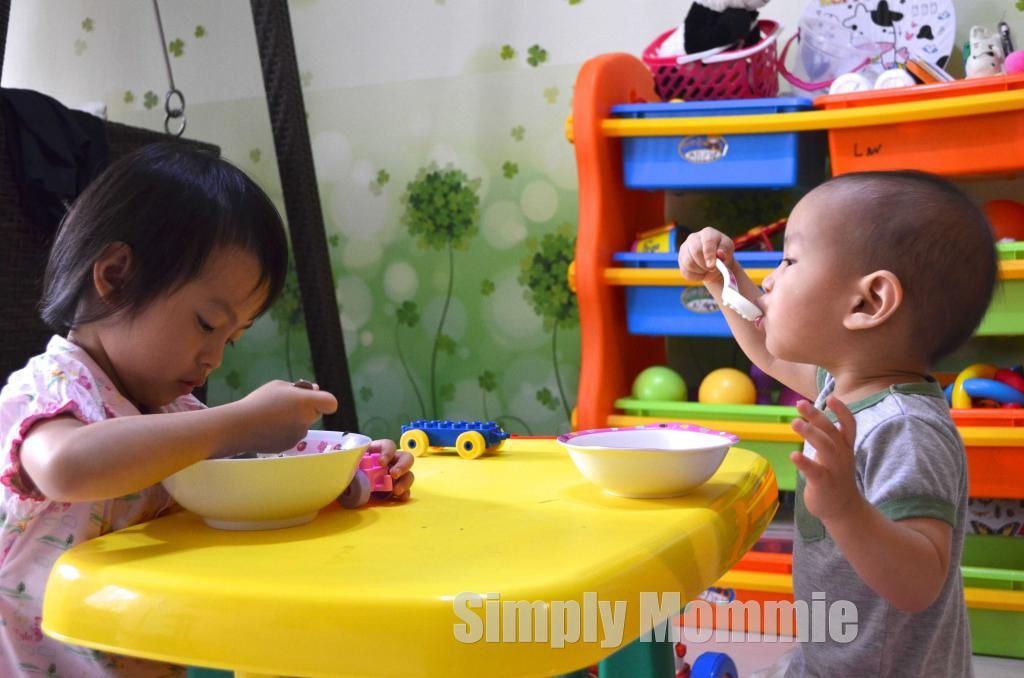 #4 You have begun to demonstrate pickiness when it comes to food choices, which well, is pretty normal but please don't be too picky, ok?
#5 You love trains!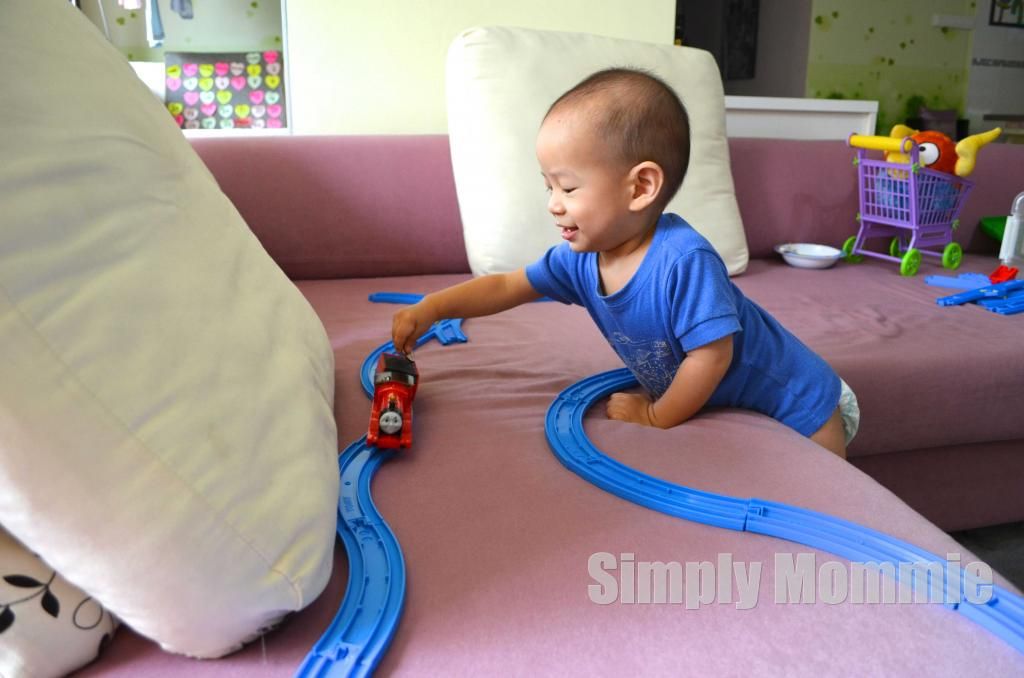 #6 You have started being able to play with jiejie's toys
#7 And join in activities like drawing at the easel: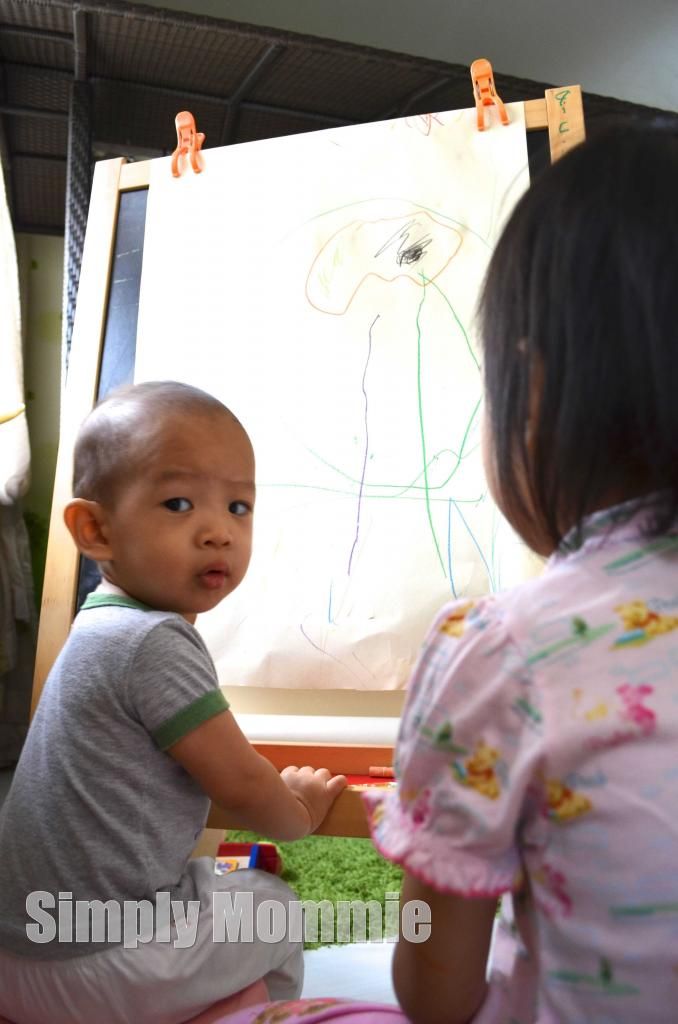 #8 You'd ask to play the piano by patting the piano bench and nodding your head vehemently: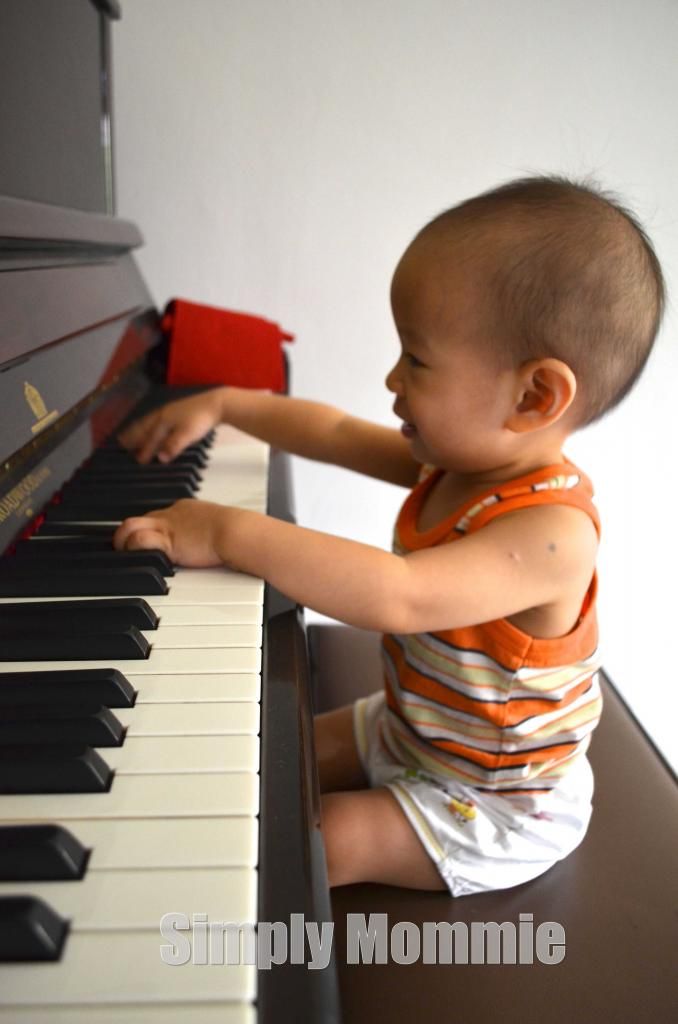 #9 You love ransacking the kitchen cabinet that I've set aside for kids' stuff:
#10 You can build simple structures with the Junior Engineer set:
#11 You now love to take a bit of formula milk (about 60-80ml) before your bedtime bath and sometimes in the afternoon too. You love sitting down with your sister to drink milk together: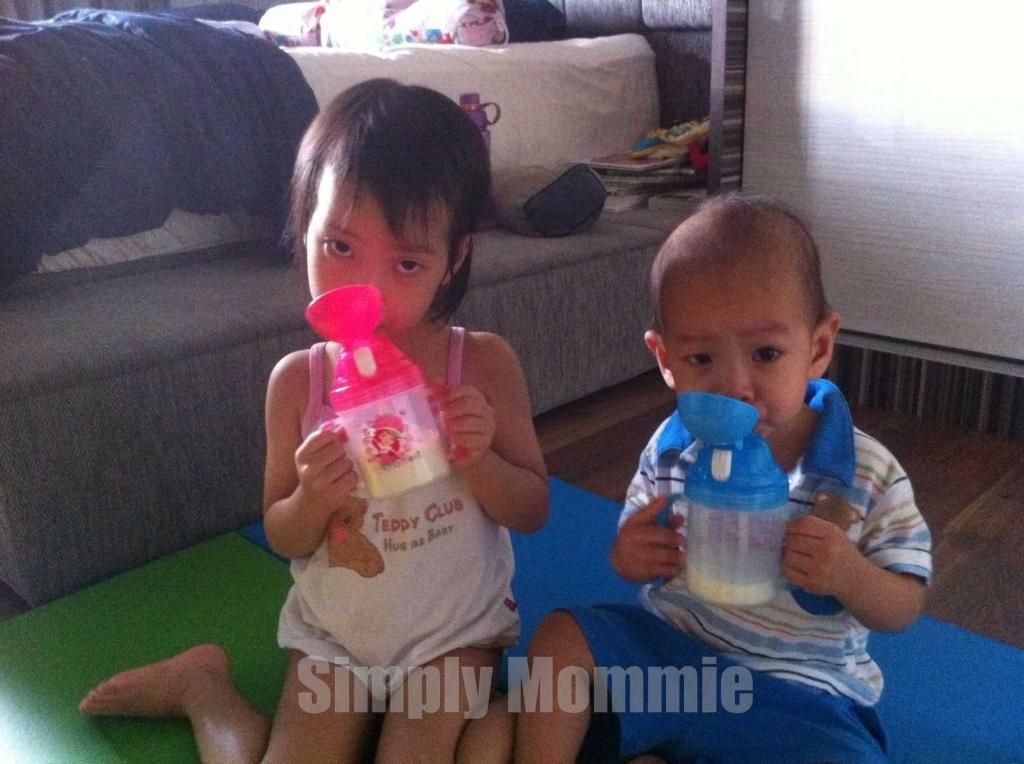 #12 You love reading and you'd ask for 'book book' and your favourite is… Brown Bear, Brown Bear, What do you see?: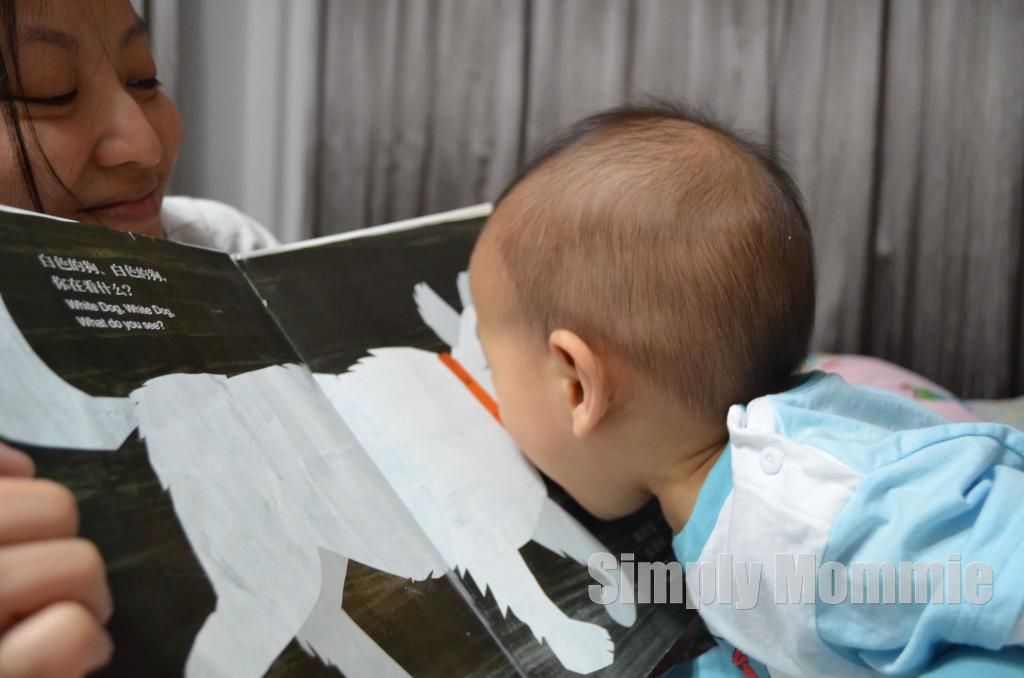 You would meow like a cat when we flip to that page and you'd try to plant kisses on some of the animals you like.
#13 You spoke your first sentence!! And it is… "I WANT THAT!" Must have learnt that from your sister. You are also able to repeat words after us sometimes, such as 'bao bao', 'zebra', 'umbrella', 'flower'… some are one-time occurrences and some words, sadly I didn't manage to note down in time and have forgotten. Your favourite words this month are 'wear wear' and 'walk walk' – you'd bring your shoes to me and exclaim 'wear wear, walk walk!' 🙂
#14 You can walk to your sister's school!!! And it's a few bus stops away!!! You are one very strong boy!!
#15 You started on sorting and stacking this month:
#16 You celebrated your third grandaunt's birthday:
and grandma's birthday too: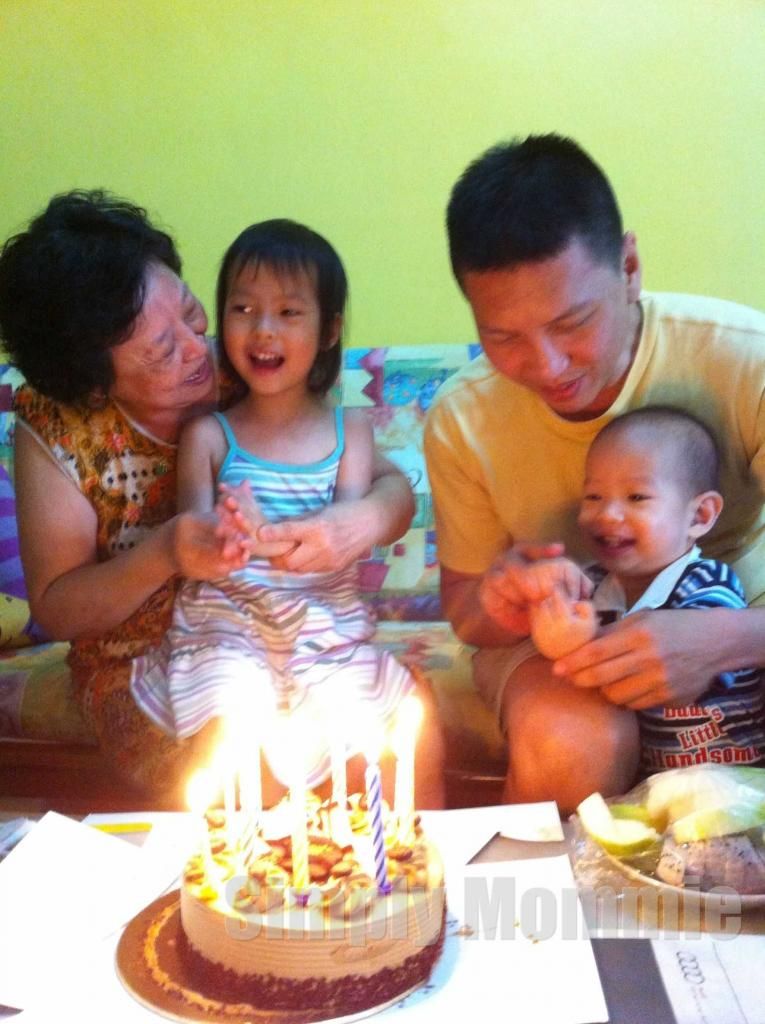 #17 Sensory play this month include coloured salt: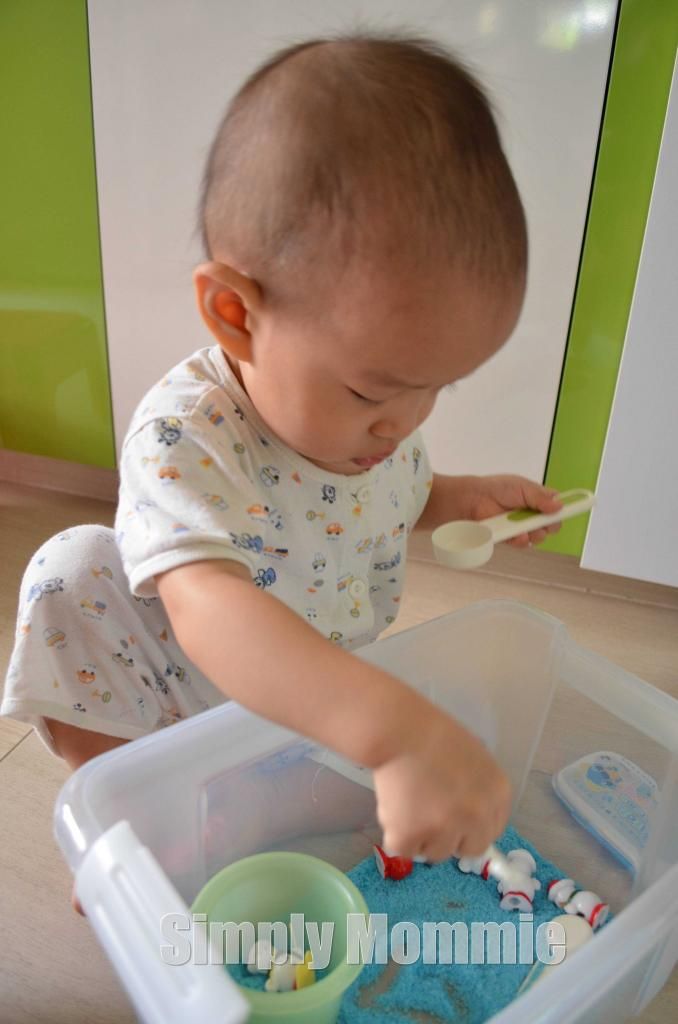 and water beads:
You love to crush water beads in your hands or by stepping on them… No more water beads for you for the moment!!
One of the most memorable moments this month for me? You were fussing and I happened to have a piece of paper in my hand and because you were fussing, I passed it to you and told you that that piece of paper is rubbish. I thought you'd just go off with the piece of the paper but you headed straight to the toilet to throw the piece of paper into the trash bin! Ah, that's my clever boy!!
Till next month's update, I just wanna say, I love you more and more each day!
xoxo,
Mummy