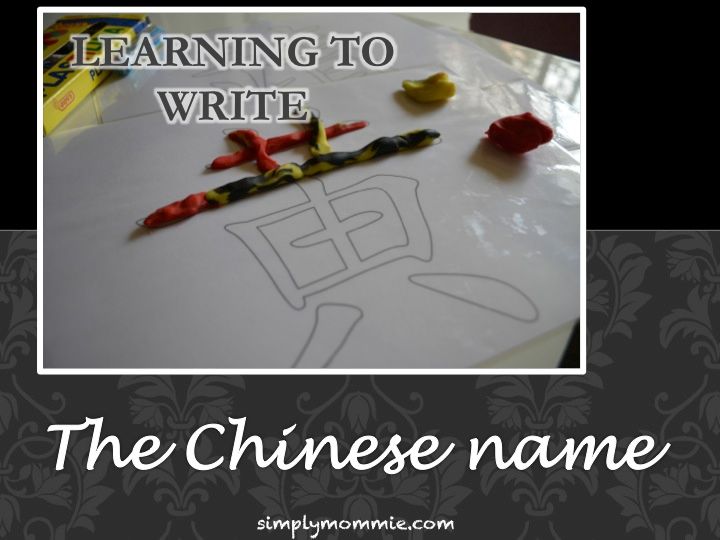 When I chose the Chinese names for my children, everyone told me that I'd have a hard time teaching them to write their names and that I was making things difficult for them. Why can't I choose less difficult-to-write Chinese names for them? My reply – they will learn.
As I begun my journey to teach my little girl to write her Chinese name, I found myself asking myself the same question – why in the world did I choose such difficult to write Chinese characters? But I soldiered on and tried to make the best out of the situation. After all, we're not about to change their names just because they are difficult to write, and by the way, my boy's name is even harder to write than my girl's.
I sat down one night brainstorming for fun name writing activities that would be applicable to teaching Chinese characters. You see, there are plenty of activities for kids learning to write their names, but no websites teaching how to teach a child to write her Chinese name! After brainstorming and asking for some ideas from other mums, I embarked on a few simple activities, some of which are generic fun activities where I can sneak learning in.
#1 Shaving foam
Bath time is always a time of fun and while everyone in the bath is feeling relaxed and comfortable washing the day's dirt away, I figured that I could sneak in some learning and it really helps that somehow the love for shaving foam/cream is in-built in children.
View other shaving foam activities:
#2 Writing with chalk on the ground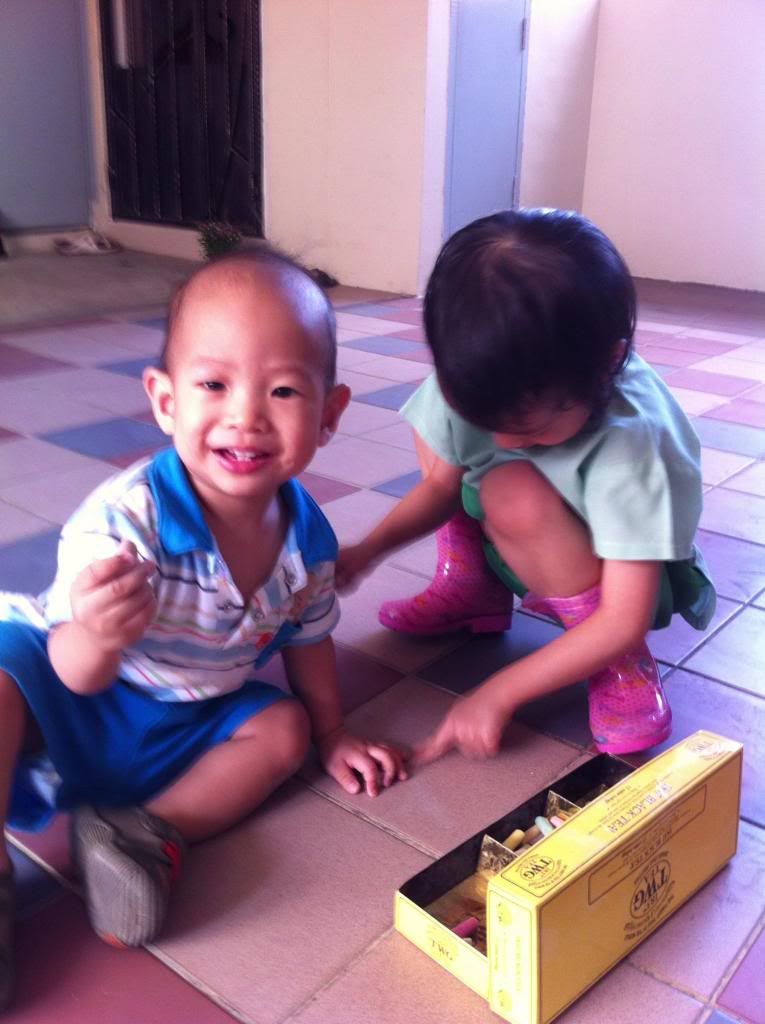 Bring the chalk out of the house for a change to up the fun quotient. With these different coloured floor tiles at the lift lobby, I got my girl to practise writing different characters which form her name (dark pink – 黄, grey – 靖 and light pink – 萱). Of course she preferred drawing trees and houses and stick figures to writing her name but at least we got a couple of those characters covered!
#3 Painting with water 
Plenty of concrete surfaces around in Singapore to do this! And of course we did this right outside our house. Simply give them a pail of water and some paintbrushes and off they go! As usual, sneak in the Chinese name writing as part of the fun!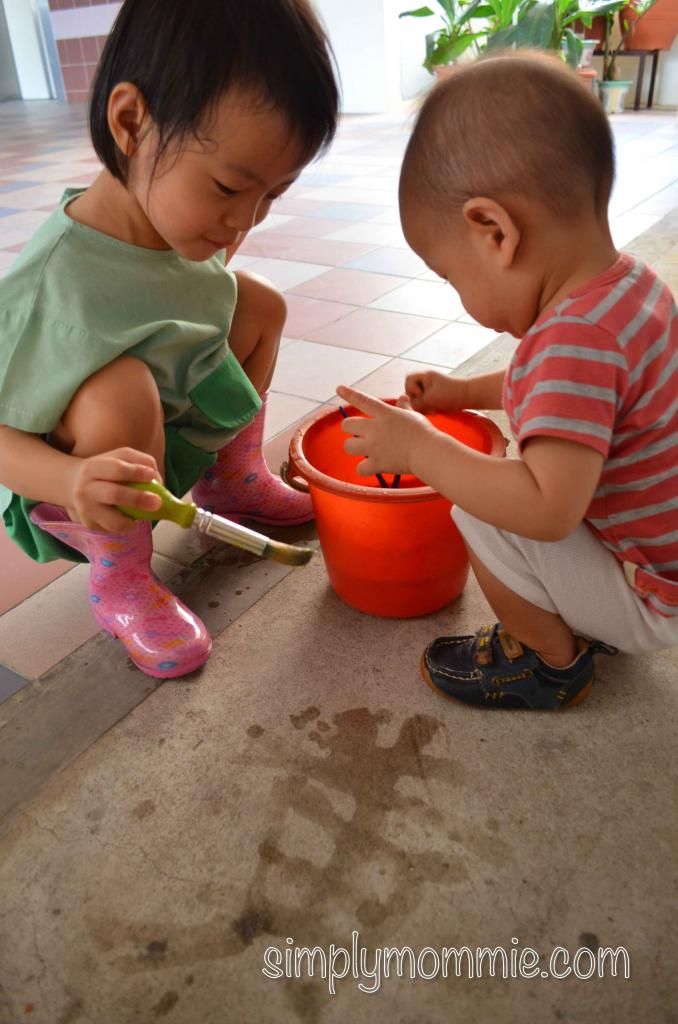 #4 DIY stroke-by-stroke Chinese name
I printed out her Chinese name, one character on each A4 sheet. I traced each individual stroke on tracing paper – make sure you number each stroke so you don't get confused.
Trace each stroke on different coloured foam sheets (make sure strokes which come into contact have different colours). Cut the strokes out and number them. I trimmed the A4 sheet to fit into a small ziploc bag and numbered the strokes on the paper. To use, simply place the foam strokes in the correct orientation next to the ziploc bag for the child: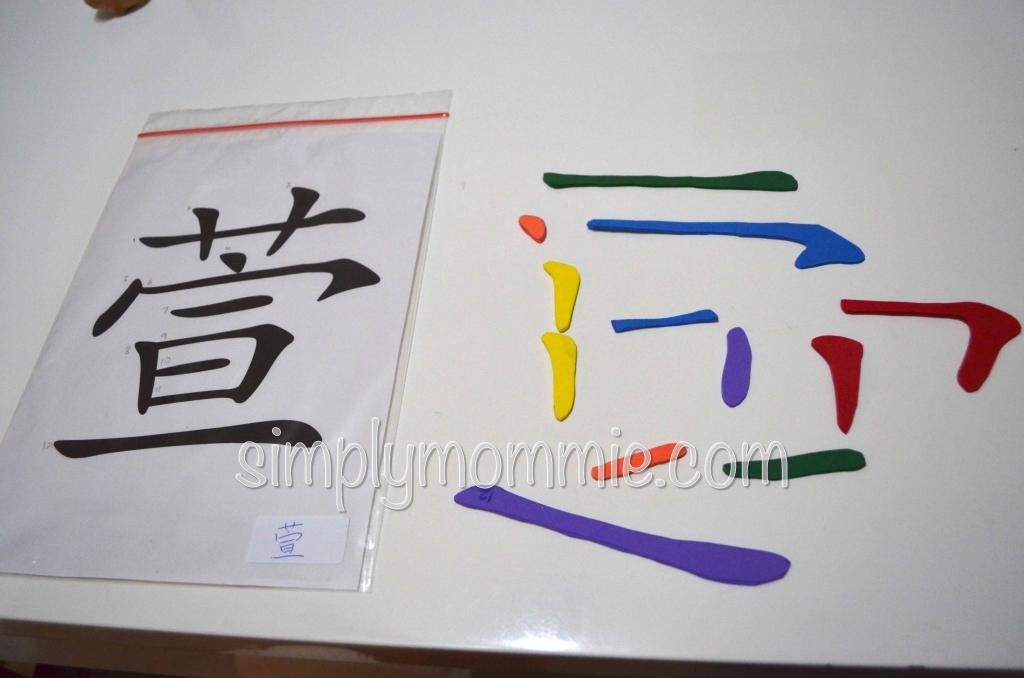 Sounds really tedious to make? It was a bit tedious but personally I find it very useful in the early stages when the child is clueless about how to put such a difficult Chinese character together.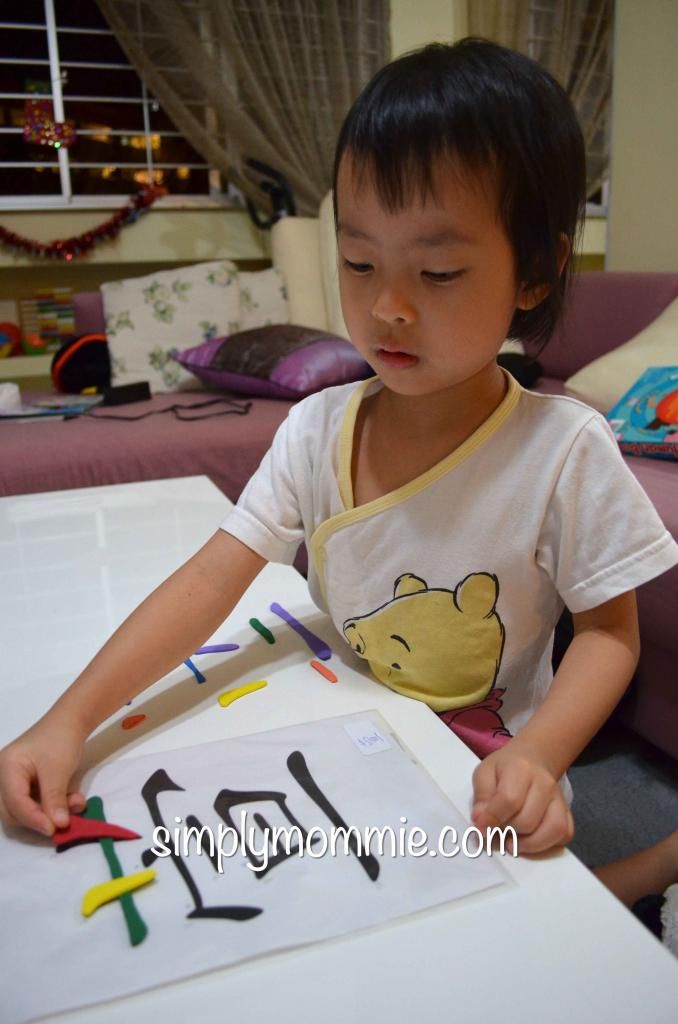 #5 Playdough mat
Using Word Art, I created playdough mats:
Work on it stroke by stroke, in the correct sequence. The rolling out of the dough/clay etc. is also great for working on fine motor skills 🙂 Mandarin is such a difficult language and I must admit that at the end of the day and all the fun, lots of practice is needed. Whether we practise writing in the bathroom with shaving foam or on the floor with water or chalk or writing in the sand, lots of practice, if the child is willing, speeds up the process.
I made these dry-erase practice sheets for little girl and she was quite willing to practise writing now and then: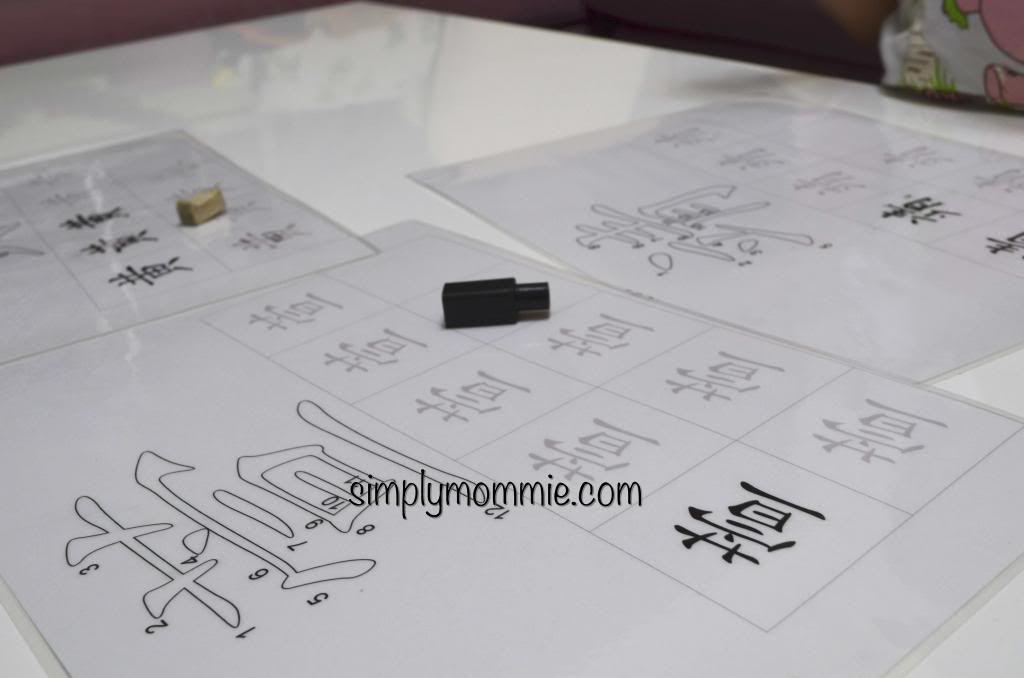 I don't make these learning aids to sell in case you are wondering. I do know of a site which sells customised bilingual name templates as well as customised name writing sheets.
Happy learning and writing!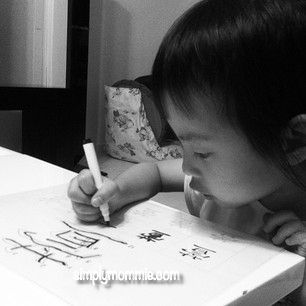 This post is part of the ongoing series: