Tomorrow marks the first day of Chinese New Year and I didn't do anything crafts with my little girl until today!! Can you believe that?? I had procrastinated doing some Chinese new year related activities with her and well, here I am, on Chinese New Year's eve with our only Chinese new year craft for the year! Last year we made toilet paper roll firecrackers, red packet lanterns and red packet fish, but I guess this year, we'll just have to make do with this easy to put together Chinese new year contact paper craft. Fortunately, Chinese New Year is celebrated across 15 days so it's perfectly alright to have this craft at our door for the next couple of weeks or so. 🙂
You see, the Chinese love to display the word 福 (meaning fortune/ good luck, pronounced as fu) during Chinese New Year inside the house as well as on the door. It's virtually possible to get any form of decorative items with the word 福 on it and this year, we bought a nice coffee table centre piece:
Here's the part where we get started on the craft. Print out the Chinese New Year craft printable here. Choose from either option 1 or 2, depending on whether you'd like to mount the piece of work on another sheet of paper.

After printing out the word on red construction paper, you'd have to help your child cut out the word (detailed instructions in the printable).
I stuck on a sheet of contact paper (sticky side up) behind the red construction paper and gave her gold confetti and gold glitter to stick onto the contact paper (very much similar to my glitter snowflake craft):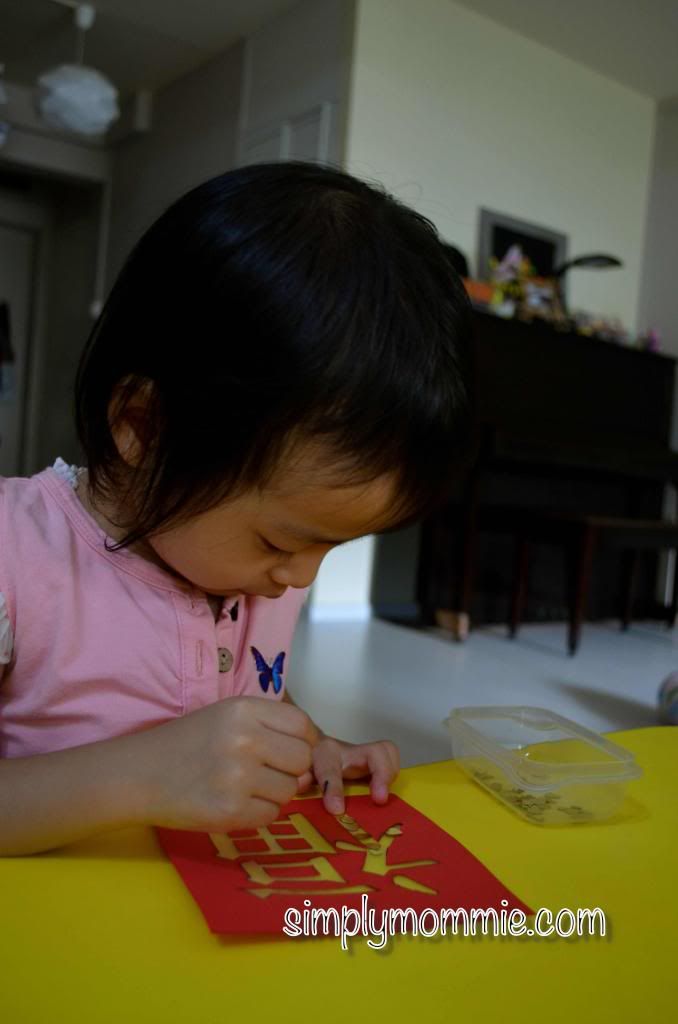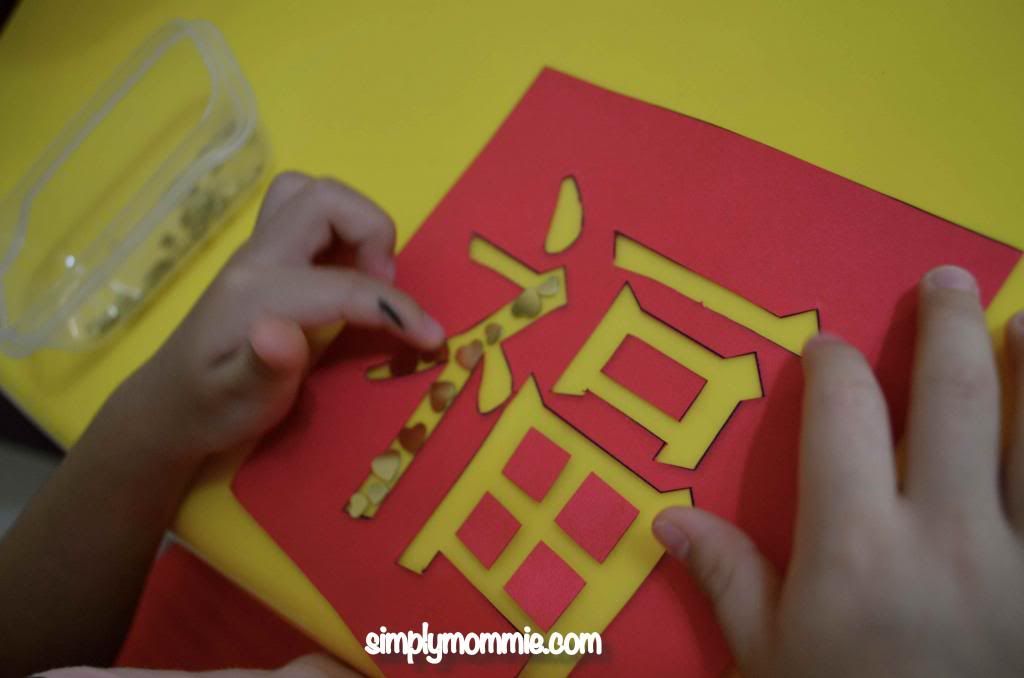 We filled up the holes with gold glitter:
For the last part, I mounted this completed work on a piece of yellow construction paper (I didn't have gold-coloured paper and yellow has traditionally been used to replace this colour and it was even considered a royal colour in the past).
Make sure the word is upside down (as shown in the first picture) as in the chinese language when you place the word upside down, it means 福到 (fu dao, meaning luck arrives). You see, in the Chinese language,  "倒" (upside down) sounds similar to "到" (arrive) and hence the word is always placed upside down 🙂
Well, have fun with this simple Chinese new year craft which can be done any year as it is not specific to any particular zodiac animal! 🙂
~~~~~~~~~~~~
If you enjoyed this post, please share your thoughts in the comments or share the post with your friends by clicking on the social media buttons below. Do hop over to my Facebook page where I connect with my readers and I would love to have you following me on Pinterest, Twitter and Instagram too 🙂