School has started and the routines we had last year are slowly falling back in place. During tiring times like these where the whole family makes adjustments to schedules, I'm glad to have received a Lollibox for home-learning with my girl so I don't need to do any of my own research for lesson ideas.
The Lollibox contains learning activities which you can do with your child and it aims to develop every child's creativity and expression.
For the January theme, we received the Itsy Bitsy Bugs box. In every Lollibox, there are four components – Create, Discover, Enrich and Award – which are packaged neatly in ziploc bags and there's even a Bonus Activity pack!
We received a welcome kit (which includes a kids scissors and kids PVA craft glue) too. It is actually a FREE GIFT when you subscribe 3/6/12 months:
I really like the glue provided in the welcome kit as it's really glue suited for what is required for the activities in the Lollibox. The Kids PVA glue is strong enough to bond paper, cardboard, fabric and even wood so you needn't worry about your crafts not taking shape.
Award
Upon completion of all activities, Lollibox includes an Award for the child to reinforce the child's self-confidence and boost his/her sense of achievement. And in the case of this box we received, it's an Itsy Bitsy Bugs badge. My girl refused to wait till she had completed the activities and excitedly wore the badge first before embarking on the first activity:
Discover
For the Discovery component, we made a spider from scratch, complete with its own spider web: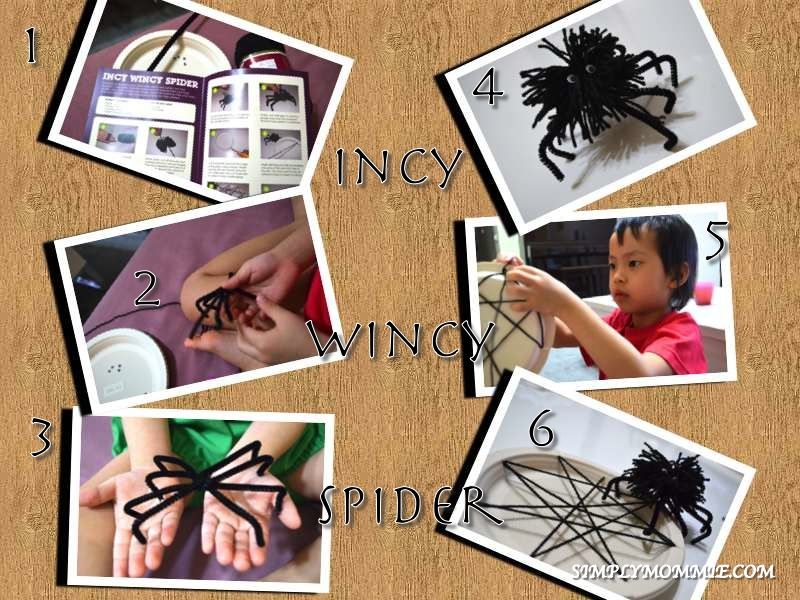 1. I love how the package comes with clear, full-coloured step-by-step instructions and more than enough materials for the activity (one whole ball of yarn, 2 pairs of googly eyes and 2 black chenille stems (pipe cleaners). No need to second guess how to do the craft or have to google for more instructions online.
2. She cut the pipe cleaners and bent them to look like spider legs.
3. The completed spider legs.
4. The completed spider. The instructions say wrap the yarn around your fingers for at least 50 times and we did about 70 times and it was a success. I took the opportunity to encourage her to count up to 70 – normally she counts up to 30 at most but she obliged this time for the sake of her spider friend. 🙂
5. Busy spinning the web.
6. The completed spider with the web which she has given to her Chinese teacher as a present. 🙂
Create
This was quite an interesting activity and light sticks with kids you know are usually an instant hit. 🙂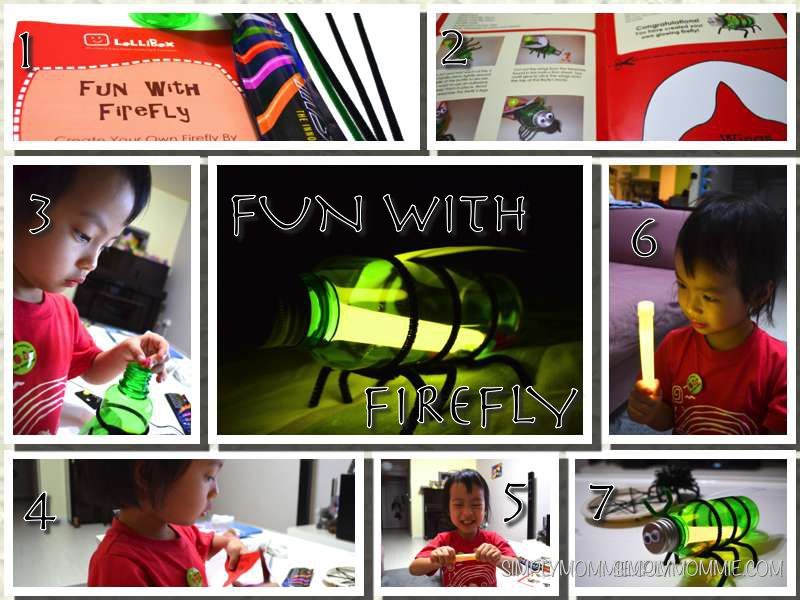 1. We love the green bottle provided for the activity – excellent colour choice which brings out the glow! Again, we had more than enough material for the activity.
2. Full-coloured step-by-step instructions provided to ensure that both adult and kid will never be lost in the instructions.
3. I thought the mosaic tiles provided added a nice touch and the child is given the flexibility to either glue it on the firefly's body or place it in the bottle. My little girl chose to place them in the bottle – I guess she was just trying to quickly get to the part where the light stick comes in.
4. Cutting out the wings template which comes with the instructions.
5. Finally! Breaking the light stick! I love how this is one of those thick light sticks which really GLOW very well and ours glowed for more than one day!
6. Fascinated with the light stick!
7. The completed firefly in light. We love how the firefly looks in the dark as well (see centre pic in the collage)!
Bonus activity
The bonus activity comes with activity cards about 5 bugs. There are some simple questions for the kid to answer on the cards and the highlight of the pack is to make clay bugs with the clay provided.
It was fun but also tiring to do as it requires lots of concentration so we split up the activity to be done on different days.
The last component of the Lollibox is to work on further carefully selected activities to keep the kid as busy as a bee.
The items for this component weren't provided to our disappointment but since these were things found in our home, we quickly got our act together.
We made a paper chain caterpillar for the Art activity – an additional activity to add to my list of activities to do with The very hungry caterpillar by Eric Carle! The extra pair of googly eyes from the Incy Wincy Spider craft certainly came in handy here!:
For the Science activity, we quickly just cut and taped a small piece of contact paper down on the kids' table. Being very familiar with contact paper as we've worked with it quite a few times, the most recent being our glitter snowflakes and contact paper process art activity, little girl wasn't very excited when she was asked to move her fingers across the contact paper to simulate how insects get caught in a sticky spiderweb.
Ahhh, but the fun came when I let her dip her fingers into some baby oil and walk across the contact paper – that's something new to her! This was to demonstrate why spiders don't get stuck in their own web as they have an oily substance on their legs:
And after that of course, spiders were forgotten and it was just sensory fun for her:
The Lollibox is recommended for kids 3-7 years old. For this box, I'd say that my little girl participated actively in the activities though she wasn't able to complete every task on her own due to her age.
Lollibox will be revising their prices with effect from 1 Feb 2013 so be sure to get yours or subscribe before then to enjoy this fun box with your child at the old price ($24.90). Check out the subscription details and revised prices here. If you're looking for a gift, you can consider the Lollibox – check out how at the gift section. Party packs (customisable for 25 packs and above) are available as well 🙂
Now for the good news!
I have ONE Lollibox and TWO $10 vouchers to give out for my readers!
Simply follow the instructions in the Rafflecopter widget below and that's it!
Other box subscriptions I've reviewed:
Disclosure: I received a Lollibox and a welcome gift pack for review purposes.