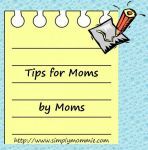 Becoming a Mom was an elusive dream for Angeline for 9 long years. In 2008, God opened her womb and blessed her with an adorable baby girl who became the greatest source of pride and joy in her life. In her blog 'PrincessDanaDiaries', Angie and her husband, Dave document the challenges and rewards they experience from a DINKY (Double-Income No Kids Yet) couple to a family unit whose home is filled with blessings overflowing and whose lives now have taken on a higher purpose. As a working Mom, Angie has her fair share of hair-pulling days but she has since discovered some simple tips to keep herself afloat. Read on and be inspired!
~~~~~~~~~~~~~~~~~~~~
When Dana was born in 2008, we juggled parenting duties and work demands without any live-in help. My Mom-in-law resides in Penang and she's enjoying her retirement so it's impractical to make her relocate down to Singapore to be a caregiver. My own Mom is committed to taking care of my nephew so we were all on our own. After exhausting all possible options, we decided to place Dana in an Infant Care Centre about 20 mins' drive from our home. She was barely 4 months old then. Every morning, we would set off from our home at 6.45am when the sky was still pitch dark. I would scoop my baby from her slumber, put her gingerly into my Ergo carrier, hop into the family car and Daddy would drop us at the Infant Care Center before he head to work. While we waited for the Infant Care Centre to be opened, I hugged Dana close to my bosom. We would pray, talk and sing to God as the first light of day breaks through and chased away all gloomy thoughts.
Leaving her in infantcare was one of the toughest decisions we had to make…
At 7.30am, I would kiss Dana a reluctant goodbye and make my way to a bus-stop 10 mins away to wait for company transport to bring me to office. In the evenings, the hubs would pick Dana up from the Infant Care Center at 6.30pm then come for me. We would adjourn somewhere (often jostling with the crowd) for dinner on our way home. We tried catering tingkat dinner for a few months and abandoned the plan. It is not uncommon for us to arrive home after 9pm, by then it's time for Dana's bedtime routine. I would bathe her, Daddy would read and we would tuck her into bed together with a lullaby and bedtime prayer. Like all parents, we put the needs of our children above our own, even if it means not hitting the bed till way past midnight. Looking back, I wondered how we survived those early years if not for the mercy of God. The unusually challenging periods were when Dana caught nasty bugs from her friends in the Infant Care (e.g. bronchiolitis, flu, fever). On those days, David and I would take turns to go on childcare leave to nurse her back to health. In this regard, we wish the government would grant parents (especially those without home support) more childcare leave on medical grounds as a bout of illness usually take few days to break.
Enjoying her days in Infantcare…
At 18 months, Dana was promoted to the childcare section. Things became slightly easier as she was more mobile and independent but our struggles for credible help didn't stop there. In order to devote more quality time to the child, we started hiring live-in domestic help.  However, many Singaporean families can attest that responsible helpers are far and few between. Till this day (4 years later), we have changed 6 helpers and still counting. Many days, it is an enormous source of stress to maintain the household, excel in mothering duties as well as not to let slip of our obligations towards our careers. At times when I feel I'm up against a mountain of exasperation, I turn to the hubs for his support and to our God for His grace to sustain us. Every household is different, and every mom has different standards about how to upkeep a home.
For us, we live by these 3 Principles:
• Roping in Dana to help with small tasks. Sometimes it may seem easier to do everything ourselves so it will be done exactly the way we want. But it's good to involve children to keep the house clean and neat. It will teach them the importance of responsibility, ownership and empathy. The survival skills and beneficial habits they picked up will last a lifetime. Dana enjoys little responsibilities like helping to hang her handkerchiefs/towels and placing her cups in the kitchen sinks. I'm now training her to bathe on her own too!
• Divide and Conquer (or if need be, Outsource). If both husband and wife are working (like we do), we'll both be tired — so it's only fair that we should share the work that needs to be done around the house. Let each other decide who will be responsible for which duty. Before we hired a maid, David helped with the ironing while I basically took care of the baby and other family routines. We also engaged a part-time helper who came every Saturday morning to give the home a good scrub.
• Quit being a (OCD) Perfectionist. I like my home to be immaculate but I had to adjust my expectations and learn to live with a bit of 'organized mess' after the baby came. As David puts it, he would rather have a messy but happy home than a spotless one with a naggy, grouchy, obessive-compulsive wife. Ultimately, the tip to maintaining our sanity as working Moms is to devote our time to what matters most. As a Mom and Wife, what brings us more joy than spending time with our husband and our little ones (while they're still little and they still crave our time and attention). The time that we spend playing, singing, reading, snuggling, laughing, discovering new sights trumps any errands or chores in importance. If we're feeling overwhelmed by our daily to-do lists and our children or husband wants to talk or cuddle, just take a deep breath, drop the tasks and enjoy their company. There will always be things that are urgent, but none as important as making memories that last. That pile of laundry or that heap of clothes can wait.
Her smiles make all sacrifices of being a Mom worthwhile…
~~~~~~~~~~~~~~~~~~~~~~~~~~
Do you have tips you'd like to share? If you have, link up here for this series of Tips for Moms – by Moms, and stay tuned for more tips from other Singapore Mom Bloggers!
Tomorrow, we have Amie who will share her 5 little tips to sanity for FTWM.
Check out the tips work-at-home-(super)mom Dominique shared with us yesterday!