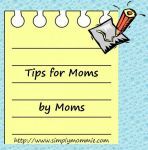 When I first started to do home-learning with my girl, Pauline was my main source of inspiration and I can't believe how much my blog has grown since. I have her to thank for igniting my passion to home-teach my children and I'm thankful that she agreed to guest post in the midst of her super busy schedule as a mumpreneur.
Pauline, a mother-of-two young and active children. A teacher, cook, baker & crafter – she loves to make things with her hands. Constantly seeking new adventures and fun in her journey as a mom. She blogs over at Mamabliss.
~~~~~~~~~~~~~~~~~~~~~~~~~~
I have been a SAHM turned Mumpreneur for almost 5 years now and I must say these 5 years have been the most fulfilling and interesting time of my life. Not only I have the opportunity to be at home for my children, I have also the chance to put my passion into practice.
Being a Mumpreneur and having an online business does draw me to my computer unknowingly while the minutes tick away. So here are some tips or rather what I've set aside for myself as a routine to keep to so that I don't get carried away with my work and forget about managing the household and family's needs.
 Set an achievable daily routine
I usually set a routine for myself in which I try my best to adhere to the planned routine as closely as possible.
There's a time of the day that I'd do my quiet time with the Lord, laundry, prepare meals, run errands, grocery shopping, work, time for the children and time for the husband/myself. Of course, this routine can be flexible in which there are unforeseen circumstances that might arise along the way and I'd try
to adjust for that day accordingly.
Multi-task as much as possible to save time
I have a part-time helper that comes in once every week to help me on the heavy duty chores such as cleaning the bathroom, windows, major sweeping/mopping of the floor and ironing.
However, the rest of the week, I'm very much on my own dealing with all the other basic cleaning, washing, neatening chores. So as much as I could, I try to 'kill more birds at one go' as I handle each task.
Laundry – I'd usually put the new load of laundry into the
washer while keeping and folding the old batch of laundry that's dried. This has been a habit I've developed so that I will not procrastinate and accumulate a whole mountain of clothes to fold and getting stressed by the sight of the load.
Meal preparation – Because I do not have a live-in helper, I'd have to do all the washing and cleaning myself. I don't like to face a filled-to-the-brim sink hence I'd usually cook and wash at the same time. Eg. While the vegetable is steaming in the pan I'll wash the cutting board and knife.
Once cooking is completed I'd wash all pots and pans immediately. That way, I wouldn't dread having to do all the cleaning after I've already walked out of the kitchen.
I am also into the habit of cooking up meals with just one pan or one pot if I can. What I'd usually do is to fry the vegetables on the Happycall Pan first because it's less oily and easier to clean. If I need to fry a meat dish I'd rinse the pan and wipe it dry with a paper towel then cook the next dish.
Entertainment & Shopping – Being so pressed for time, I hardly shop at the malls anymore. Neither do I have time to sit in front of the TV to try catching my favourite drama at a specific time of the day. Everything is at my finger tips these days. I watch TV drama online, learn a new recipe on Youtube, all these I do while I shop on the internet. I've done shopping for groceries,
kitchenwares, clothes, books and sometimes even shoes.
Bond with the Children over daily routine
Where bonding with the kids is concerned, I'd usually spend time bonding with them over our daily routine.
Home learning – When I've an inspiration to run a thematic
learning with the kiddos I'd usually work out a week's worth of activities by doing some pre-planning research on the internet. Then carry out the lesson plan daily for as long as the kids are interested. As the children are now less dependent on manipulatives to learn we carry out more inquiry based method of learning through our reading of the children's literature.
During times when I haven't been able to come up with a new thematic learning plan, we'd sit down by our work table after dinner each day to do a few pages of workbook.
Occasionally we'd also quiz each other using the Brain Quest question cards or go through our riddle book.
Other times, we just learn along the way to school as we discuss and talk about issues surrounding us. We also make it a point to do more field trips where the learning can be further enriched.
Work & Life roll into one
Work and life coincides with each other for me as a Mumpreneur.
Meal plans made for the family or new kitchen gadget used at home can be new posts I'd put up on Munch Ministry.
Home learning activities carried out with the children can also be shared on MyPlayschool.
Where work is concerned it gets easier now with a smart phone. Updates can be done on the go and discussions with my business partners can be made via Whatsapp.
I hope my sharing has given you a few ideas and hope they've been helpful.
~~~~~~~~~~~~~~~~~~~~~~~~
Stay tuned for more tips from other Singapore Mom Bloggers!
On Monday, we have Sandra, a full-time-working-mom who will share her tips on how she copes as a ftwm who is currently pregnant and mom to two kids.
Check out Tzer Jing's enjoyable parenting journey shared yesterday!