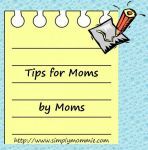 Tzer Jing is a full-time working mom who believes that children learn best when at play and that childhood should be loads full of fun. Together with her husband, they focus on keeping them at the pinkest of health, giving them space and freedom to grow and learn, and cultivating their love and desire for learning. Over at The Kam Family, they document their lives as a family of 4, and share their parenting journey and experience.
~~~~~~~~~~~~~~~~~~~~~~~~~~
Before I share some "tips" with you, first, for the benefit of the new or relatively new readers of our blog, please let me share with you how our household and childcare arrangements are like.
Both me and my hubby are full time working parents. Our 2 kids, aged 3 and 4.5, go to full day child care. Dinner is home cooked almost every day on weekdays by the mum while the kids entertained themselves. Weekends are entirely for family, for the 4 of us to do things and enjoy our time as a family. We have no live-in nor part time helper and we have no elderly to help as we are a Malaysian family living in Singapore.
I have been "working" as a mum for almost 5 years now. It is indeed a very fulfilling journey to see my two happy and healthy kids growing up from tiny little babies who weighed just 3kg to pre-schoolers who are now 18 and 19.5 kg, and they are already more than 2/3 of my height (okay, I admit I am a shortie so the kids inherited the tall genes from the daddy)!! Looking back, I think I should be qualified as a capable mum and get a "Pass" grade (at least?) to be a mum, shouldn't I?
In this parenting journey, there are so many new things that I have learnt, old stuff that I need to re-learn, re-think and re-do, and there are still lots and lots and lots of things to be learnt, as new challenges come every day, and as they grow up every day!
In this post, I would like to share what makes me enjoy my parenting journey.
Have the right mindset
It's a choice that me and my hub made to be a parent. So from the first day that our first child was born, the responsibilities fell upon us to take good care of him and to raise him as a happy and healthy kid. We do not consider doing all the parenting related stuff as a chore, but as our duties, as a parent. Just get on our feet and do it. We try our best to enjoy every process as a parent and at the same time to make our children enjoy their childhood too.
Together as a family unit
When we first became parents, we redefined our roles, to add in one more role, i.e., as a mum and a dad. We redefined our family unit, i.e., from just husband and wife to now a family of 4. What is very important, for me to "survive", is that we (hub and I) share and help each other. We both agreed a live-in helper is not an option for us, but there is housework to do. For the first few years, we agreed that we should get a part time helper to help with the major house chores once a week so that we can play our role better as new parents. Then when decided that we do not need help anymore since we are able to steal some time during the weekends, we both chip in with the housework. There are no clear "rules" as to who does what. My very hands-on-hub will do all the housework if he sees that I am busy or tired, though I as the mum, am no doubt the main carer for the kids. Cut down or cut off complaining and nagging, as everything we do, is for the family.
Create couple time
Weekends are strictly for family bonding. We do things as a family and we go everywhere as a family. We don't really crave for couple time, oh no, that is such a lie, we definitely crave for couple time, but this is the ultimate luxury that we won't be able to enjoy, for now and the coming few years at least. So, what we do instead is to create couple time. We make use of those few minutes to half an hour "free" time when they are busy running at the playground (explains why we head to the playground so often, haha!) to have a one-to-one chat and to have some intimate moment 🙂 And also at night when the kids are off to bed. And even during the car rides when the kids are asleep. Precious couple time doesn't have to be a planned long holiday without kids, couple time can be anytime now and then.
Positive and slow parenting
We promise ourselves to not to join in the rat race of the kiasu-ness of the parenting trend in Singapore. We do not put focus on their academic at all. Not that we don't care, but since our kids are going to full day childcare and we know they learn all the basic ABC and 123 there, we just relax. We just have to monitor their progress unofficially (through observation while playing with them), which to our relief, their progress is very good so far. Instead, we focus on the character building of the kids. We focus on instilling the right values, teaching them the basic living skills, and to encourage them to love and to care for the family members and everyone around them.
Don't compare them with their peers. We do not need to give the kids a head start at such a young age in order to do well later in life. We should live at the present moment, be slow, i.e., to give the children ample space and time and freedom to do or to learn, at the speed that they choose.
Be focused
There will always be 24 hours a day and 365.25 days per year no matter how hard you try. It is impossible to achieve everything and to do everything. So be focused. Know yourself and know your children. What's most important to you. Prioritise the list of things that you want or need to do. For us, we want them to be happy and healthy. So our daily routine and our family focus is based on this – to make sure that they are happy and healthy. Everything else is secondary.
Soft disciplining
Both hubby and I are on the same page when it comes to parenting. We agree on most of the stuff and we take the same approach. For things that we don't agree with each other, we discuss and we compromise.When it comes to more serious stuff like disciplining the kids, we both agree there should be caning, no beating, no scolding (no, no, not scolding it's quite impossible, so we, especially I, do "a bit" of scolding, haha, though we try our best not to), we are all for the soft disciplining, and we stick to it.
We can definitely see our children benefiting from the soft disciplining – spare the rod does not spoil the kid!
Change is the only constant
Expect change. Allow change. Live with the change. There is no one fixed method that you can deal with an issue or a certain situation. Kids change all the time, their wants and don't-wants, their likes and don't-likes. Don't label the child, they change as they grow. Some methods may work now but may not work a few months later. Parenting is definitely a life skill that needs lots of learning. The more flexible a parent is, the easier it is to handle the child.
Trust your child
Yes, trust them, this is the absolute key point to me. Don't doubt their capabilities. As long as a parent gives a child sufficient guidance and helps when necessary, more often than not, the child can do things that are beyond what we parents would ever imagine!
Just enjoy the journey and appreciate who they are. Happy parenting!
~~~~~~~~~~~~~~~~~~~~~~~
Stay tuned for more tips from other Singapore Mom Bloggers!
Tomorrow, we have Pauline, a work-at-home-mom who will share her tips on how she manages to run her business while being a dedicated mother and wife.
Check out Jolin's tips for fun as a full-time-working-mom shared yesterday!