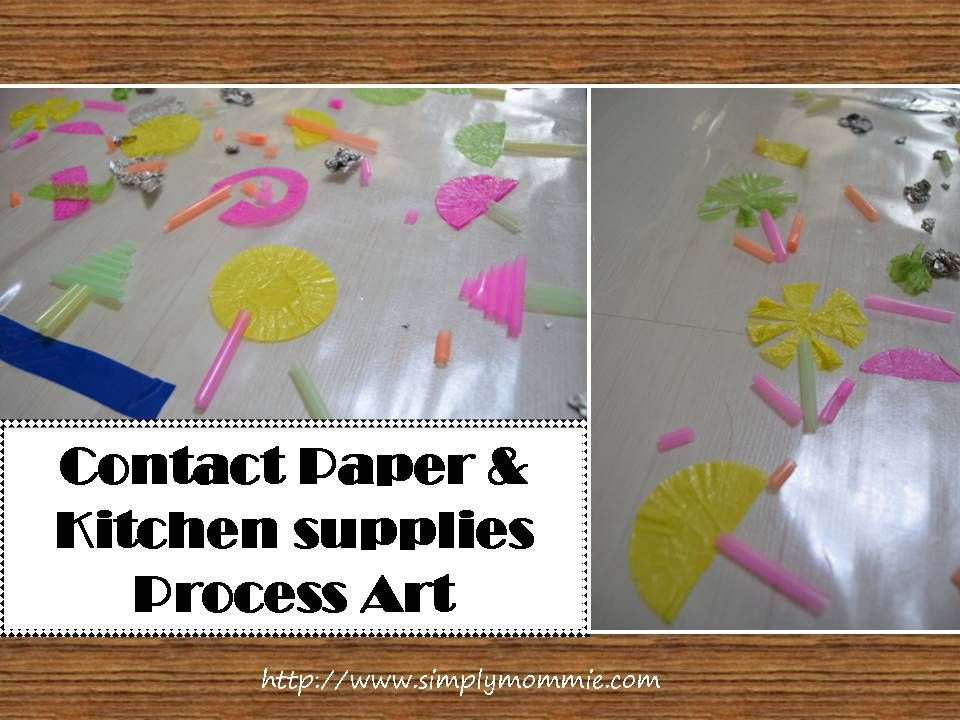 This contact paper craft activity for toddlers and preschoolers is so convenient to put together because all it requires are supplies which you probably already have in the house. We used only half a small roll of contact paper, aluminium foil, straws and paper muffin cups (which I had previously used for sensory play for my boy when he was about 10 months old – he loved to crush the paper cups!). Well, being the hoarder that I am, I saved those crushed muffin cups waiting for a day that I could recycle them somehow. And I'm so glad I saved those because they were utilised so beautifully in this activity!
Setting up the activity with a baby who tried to crawl on the contact paper which wasn't already stuck to the floor was the most difficult part of the activity! But fortunately we got through that part and the kids were presented with the kitchen items, one at a time.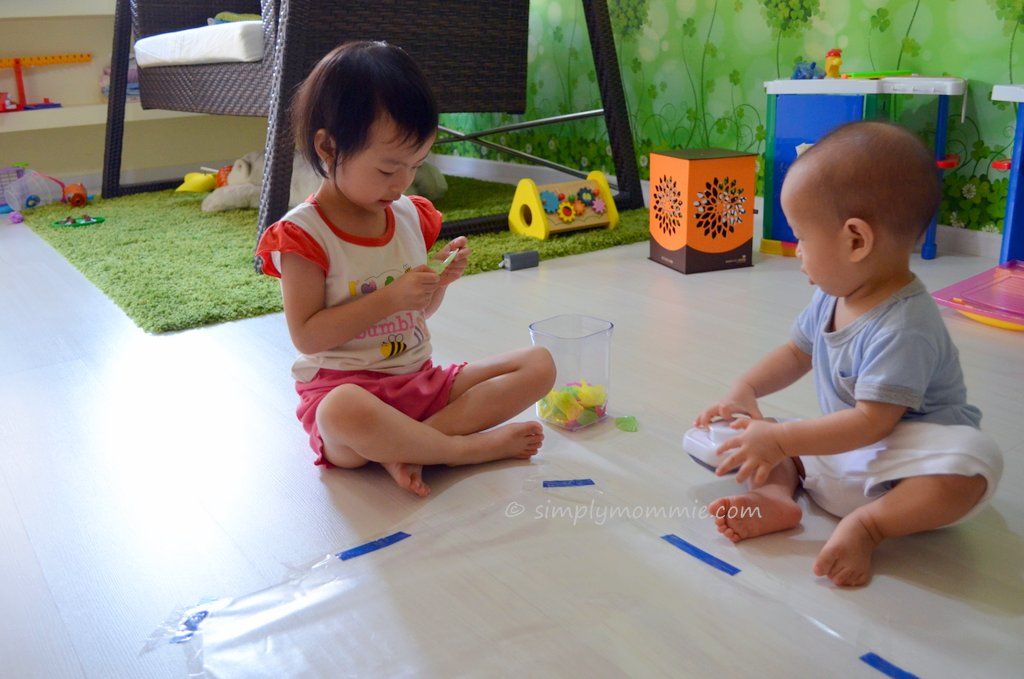 paper muffin cups first, followed by straws
My girl loves cutting up things and straws are especially great for practising cutting! (we saved the cut straws from the contact paper for another activity eventually).
Then I gave out the aluminium foil:
After tearing the foil (oh, tearing counts as a fine motor skill too!), he decided that he had better use for the foil than placing it on the contact paper:
nom nom nom
And after his sis had stuck bits of foil down on the contact paper, his sole mission was to remove them…
no matter how small the bits of foil were, he practised his pincer grasp and made sure he removed the foil:
And there he goes again…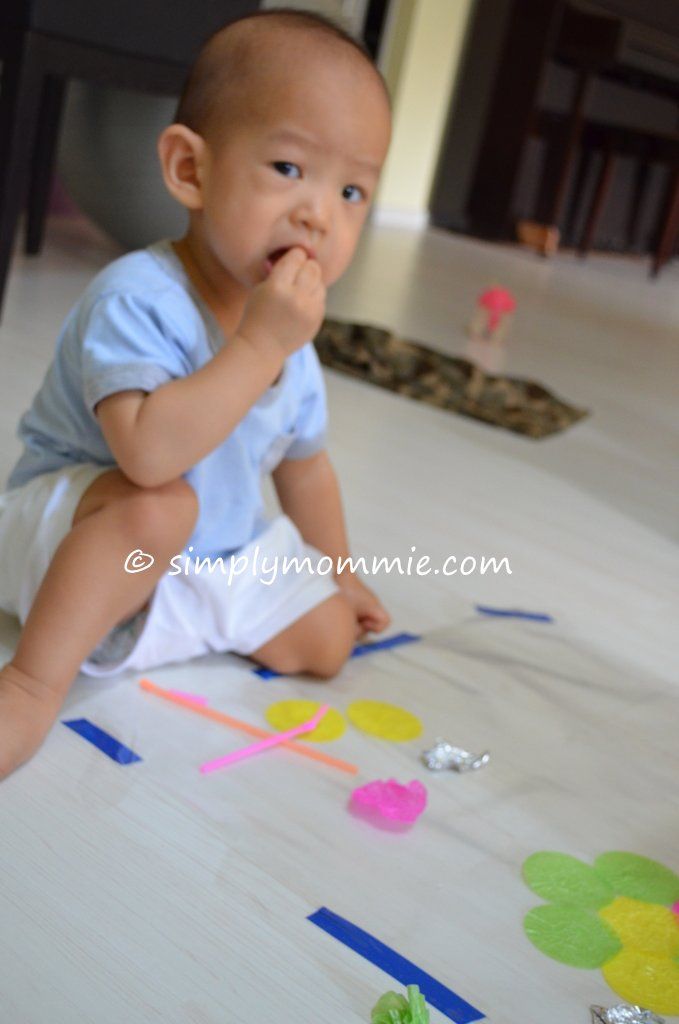 Now, need I mention that this activity requires close supervision if baby is involved? 🙂
After my girl cut some straws, she started to stick them: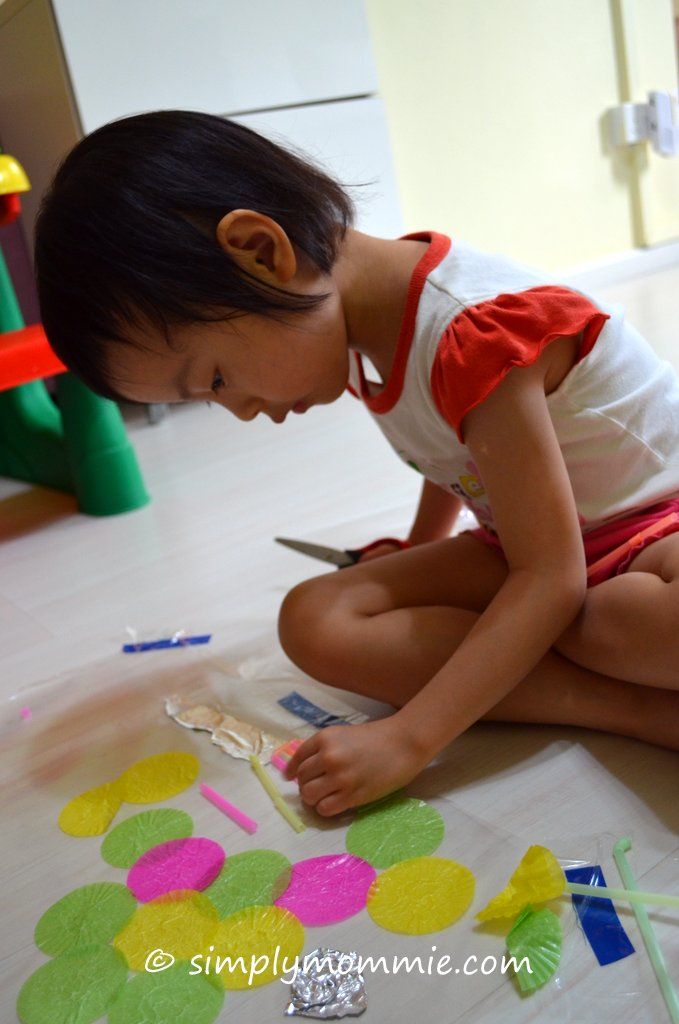 while little boy had his own ideas (again!) about where straws should be stuck –
why, between the toes of course!
My girl started off making a 'straw box':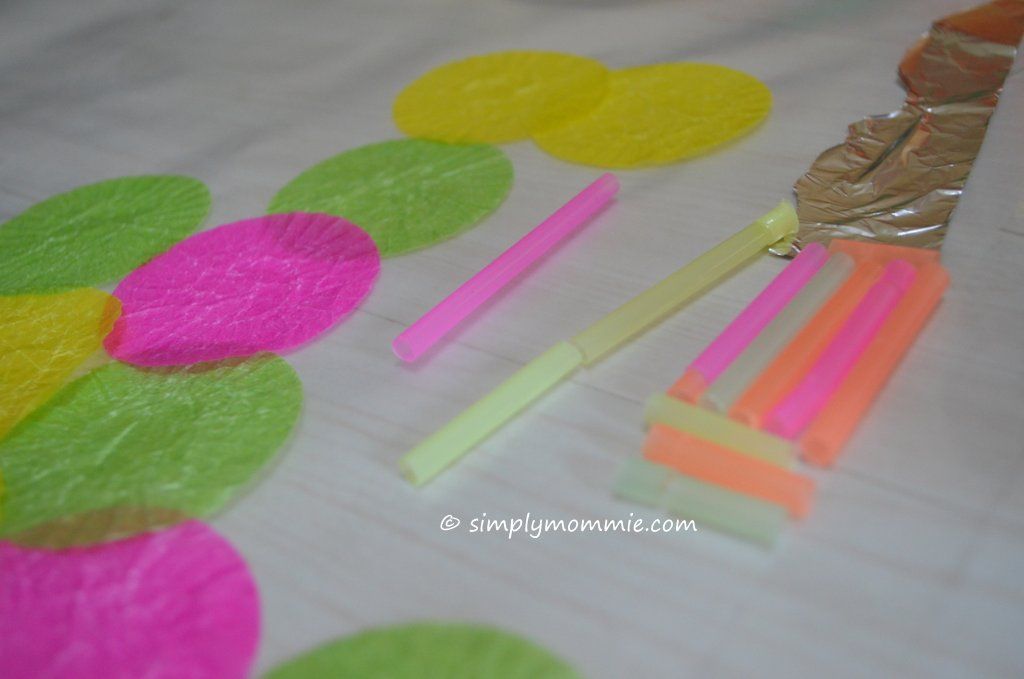 Cutting straws to about the same length took some skill in estimation and I'm glad she managed this well.
Little boy decided that he would start packing up:
and packing up involves removing stuff from the contact paper into his box:
And crawling on the contact paper for the activity is a must-do!
Meanwhile, my little girl made a fancy cauldron:
And here she is, stirring her potion with a straw (what fine imagination children have!):
Eventually, she started cutting a muffin cup and told me she's making a flower.
Pretty flowers, don't you think?
And we made straw trees and The-Lorax-movie-inspired colourful trees!:
I left the contact paper there the whole day and it continued to be played with till bedtime. It kept my preschooler quietly busy for at least an hour on her own! This activity is definitely a keeper – it allows room for so much imagination, practice of fine motor skills and sensory play for the little ones too and it costs next to nothing!